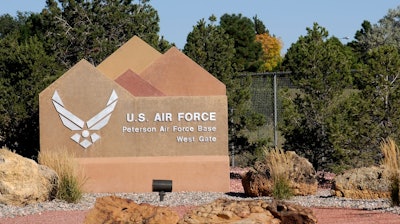 DENVER (AP) — The military said Wednesday it has identified six places on an Air Force base in Colorado where firefighting foam containing toxic chemicals may have escaped into the environment and made its way into drinking water in two nearby communities.
Engineers who conducted the review recommended a follow-up investigation at Peterson Air Force Base, where the foam was used in firefighting drills and equipment tests. It contained perfluorinated compounds, or PFCs, which have been linked to prostate, kidney and testicular cancer, along with other illnesses.
The military is checking bases nationwide for possible releases of the foam into the environment.
It wasn't immediately clear what the next phase of the investigation at Peterson would entail. The Air Force previously announced plans to drill monitoring wells and take soil samples to determine whether the chemicals were seeping into underground water from the base.
The PFCs were found in three water systems serving about 69,000 people in the city of Fountain and an unincorporated community called Security-Widefield. The chemicals have not been definitively traced to Peterson, but its proximity to the affected systems spurred the investigation.
The PFCs also were widely used in non-stick coatings on cookware and in other applications. The U.S. Environmental Protection Agency ordered water systems nationwide to test for the compounds between 2013 and 2015.
The Fountain, Security and Widefield districts found the chemicals at levels that exceed the EPA's suggested limits. PFCs didn't show up in any other districts.
Colorado health officials have said the communities have higher rates of kidney cancer than surrounding populations, but the evidence was not sufficient to definitively blame PFCs. They noted that the residents also have higher rates of obesity and smoking, which are linked to cancer.
The Air Force previously agreed to spend $4.3 million to install filters in the three systems to remove PFCs. Contractors were still working out the details, Peterson spokesman Steve Brady said.
The Security Water District has shifted almost entirely to surface water — from rivers and lakes — since the PFCs were found, Manager Roy Heald said Wednesday. Previously, about half the district's water came from wells and half from surface water.
Heald expects the district to use surface water entirely soon, following modifications to the system.
The Fountain Water Department has not used wells since October and got through this summer's peak demand period entirely on surface water, Utilities Director Curtis Mitchell said.
The director of the Widefield water system wasn't immediately available to comment, his staff said.