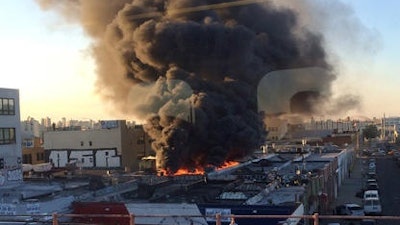 Reena Karani MD, MHPE via AP
NBC New York is reporting a 5-alarm fire at a millwork factory in the city's borough of Queens.
Allegedly fueled by wood and paint thinners, the fire raged for hours Wednesday, said the news station's website, and hundreds of firefighters struggled to put out the blaze before it was finally brought under control.
According to the AP, more than 250 firefighters and EMS workers responded to the blaze. Chief of Department James Leonard said the factory was destroyed, but the firefighting effort was able to save three adjacent businesses. He says four firefighters suffered minor injuries.