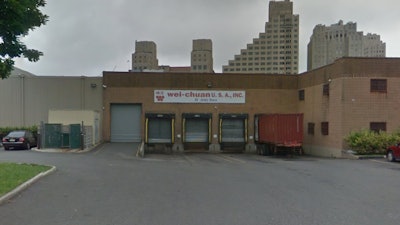 Google Earth
Late last year, the U.S. Department of Labor's Occupational Safety and Health Administration initiated an inspection of New Jersey-based food manufacturer Wei-Chuan U.S.A. Inc. after the Jersey City Police Department told the agency about a worker who died while working at the company's food distribution warehouse.
On December 27, 2015, a 60-year-old warehouse supervisor fell 24 feet to his death from a top-tier warehouse rack. OSHA's inspectors learned that the company knowingly allowed forklifts to elevate employees on pallets as they conducted inventory, and now the company will pay for its negligence.
On June 22, 2016, OSHA issued Wei-Chuan one willful, one repeat, and six serious violations with proposed penalties totaling $107,000.
The willful violation results from the company's failure to use an approved platform for raising employees on forklifts, as well as failure to provide fall protection. The repeat citation resulted from a lack of hazard communication training, even after the company was fined for the same offense in February 2011. Wei-Chuan, which is headquartered in Bell Gardens, CA, is a food manufacturing and distribution company that produces frozen food products.
The serious violations stem from the company enabling employees to improperly climb warehouse racks, a lack of hand protection while handling hazardous materials, electrical hazards, hazard communication deficiencies and lack of forklift training.
"Wei-Chuan U.S.A. failed to provide required fall protection and ensure its forklift practices were safe, resulting in a preventable fatality. This tragedy could have been prevented if the company used basic safeguards and properly trained its employees to recognize workplace hazards," said Brian Flynn, acting director at OSHA's Parsippany Area Office in a press release.