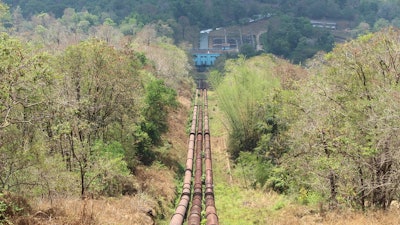 Pixabay
VENTURA, Calif. (AP) — Thousands of gallons of crude oil spilled Thursday from a pipeline and flowed down a ravine in Southern California but did not reach the ocean, officials said.
The estimated 29,400 gallons of oil moved a half-mile from the spill, Ventura Fire Department spokeswoman Kelly Flanders said.
The spill was reported in the Hall Canyon area above the city of Ventura and flowed into the Prince Barranca, a ravine that ends at San Buenaventura State Beach near the Ventura Pier.
Fire departments responded and a pump house operating the line was shut down. Firefighters built a dam out of dirt to keep the oil from moving farther.
"It didn't make it into the ocean," said Ventura County fire Capt. Scott Quirarte.
The oil left a black stain down the brush- and tree-filled arroyo and did not spread elsewhere.
Initial projections that up to 210,000 gallons may have spilled were later reduced.
There was no immediate information on the possible cause.
Resident Kirk Atwater, 56, said he called 911 after smelling and hearing the flowing crude.
"We started getting this horrendous smell and I knew right away what it was," he said.
Atwater said he went up the canyon on his motor scooter and found the oil gushing from an above-ground box that he surmised covers equipment.
"It was just pouring out like water coming out of a fire hydrant," he said.
He said he found a posted phone number and reported the leak to the pipeline company.
The oil spilled from a line operated by Crimson Pipeline, Flanders said. A telephone message seeking comment was left for a company representative.
A company press release from April said Crimson's California network traverses about 1,000 miles and moves nearly 200,000 barrels — 8.4 million gallons — of oil daily.
The spill came 13 months after more than 120,000 gallons of oil spilled on the coast of neighboring Santa Barbara County. Some of the crude flowed into the ocean at Refugio State Beach and killed birds and sea lions.
That pipeline, owned by Plains All American Pipeline, was found to have corrosion.
Federal regulators said last month that Plains failed to prevent corrosion in its pipes, detect the rupture or respond swiftly as crude streamed toward the ocean on May 19, 2015.
The report was issued just two days after Plains was indicted in Santa Barbara County Superior Court on 46 criminal counts, including four felonies of polluting state waters and three dozen misdemeanors of harming wildlife.