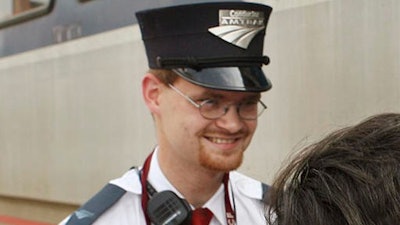 Huy Richard Mach/St. Louis Post-Dispatch via AP, File
WASHINGTON (AP) — Victims of last year's deadly Amtrak derailment aren't buying the findings of federal investigators that the train's engineer likely lost his bearings because he was distracted by an incident with a nearby train.
Through lawyers, they called the National Transportation Safety Board's cause determination frustrating, disappointing and hard to believe. One lawyer called Tuesday's explanation a "whitewash." Another said it was a "quantum leap."
Instead of closure, they said, the official report on the May 12, 2015 wreck only prompted more questions.
"We've reached the end and there's no conclusion," lawyer Fred Eisenberg said.
Having ruled out other factors including equipment problems and cell phone use, investigators determined that engineer Brandon Bostian lost track of where he was after hearing on the radio that a commuter train had been struck with a rock.
At the same time, investigators said, Bostian accelerated full-throttle, causing the train to reach 106 mph as it entered a sharp curve with a 50 mph speed limit.
"Excluding all the other suspects that we looked at, the best we could come up with was that he was distracted from this radio conversation about the damaged train and forgot where he was," NTSB chairman Christopher Hart said.
Eight people aboard the Washington-to-New York train were killed. Four of them were ejected through emergency windows that dislodged as the cars slid on their sides, investigators said. More than 200 people were injured.
Bostian, who has been suspended without pay since the crash, did not attend the hearing. He and his lawyer did not return calls and emails seeking comment.
Duy Nguyen, of Teaneck, New Jersey, a passenger who suffered a cut on his head and fractures in his back when he was thrown across a car, attended the NTSB hearing. The Temple University professor said he was puzzled by the findings.
"The part that doesn't make sense is how does one accelerate when you're distracted?" Nguyen said. "The inclination is to slow down."
No evidence exists to support the NTSB's conclusion, lawyer Judy Livingston said, calling it "an awful explanation to the families who have lost loved ones."
Livingston represents the family of Justin Zemser, a Naval Academy midshipman who was killed on his way home to New York. Their feeling, she said, was after waiting so long for answers, "the answers they came up with were woefully inadequate."
Lawyer Tom Kline said the NTSB's findings "are based on speculation" and would not be admissible in any court.
NTSB spokesman Peter Knudson said Tuesday night that investigators would have preferred more evidence, like video from an inward facing camera in the locomotive that would have allowed them to review Bostian's actions.
"We can only evaluate the evidence that we have," Knudson said. "And the preponderance of evidence that we had to work with pointed us to a loss of situational awareness."
The NTSB said a contributing factor in the derailment was the railroad industry's decades-long failure to fully install positive train control — GPS-based technology that can automatically slow trains that are going over the speed limit.
Had positive train control been in use at the curve at the time of the derailment "we would not be here today," said NTSB investigator Ted Turpin.
T. Bella Dinh-Zarr, the board's vice chairman, urged the panel to put more blame on the lack of positive train control, arguing it would have prevented the train from going too fast when Bostian became distracted.
"Eight people have died, dozens more have been injured — life-changing injuries — because the government and industry have not acted for decades on a well-known safety hazard," Dinh-Zarr said. "I ask, why does our probable cause focus on a human's mistake and what he may have been distracted by?"
Over the last 20 years, the NTSB has listed the lack of positive train control as a contributing factor in 25 crashes, Chairman Christopher Hart said, including fatal wrecks in Chatsworth, California in 2008 and New York City in 2013.
Amtrak has installed positive train control on all of the track it owns between Washington and Boston, but a 56-mile state-owned stretch between New Rochelle, New York and New Haven, Connecticut still doesn't have the technology.
Throughout the rest of the country, Amtrak operates on track owned by freight carriers, many of which have lagged in installing positive train control. Congress last year pushed the deadline to the end of 2018 and left the possibility that railroads could get another two years to complete the work.
Ed Greenberg, of the Association for American Railroads, said positive train control is a priority for freight carriers. They are working through testing and installation "as quickly as possible, without sacrificing safety" and are on schedule to implement the technology by the new deadline, he said.
Bostian was known among his friends for his safety-mindedness and love of railroading. Before the crash, he apparently commented in an online forum for train enthusiasts, lamenting that railroads hadn't been fast enough to adopt positive train control.
That history of conscientiousness makes the NTSB's explanation all the more hard to accept, veteran Amtrak engineer Karl Edler said. "What is the evidence that that is what happened?" he asked.
In a statement, Amtrak said it "deeply regrets the tragic derailment" and will carefully review the NTSB findings and recommendations and quickly adopt them where appropriate.
Amtrak already has taken responsibility for the crash, and its liability is capped under federal law at $295 million, which could easily be exhausted, given the number of deaths and serious injuries.
The Philadelphia District Attorney's Office is helping the NTSB on the investigation, but a spokesman would not comment on the possibility of criminal charges.
The NTSB also recommended research into train seat belts and ways to secure luggage that can become missiles in a derailment; training for crew members on multitasking; and new equipment and procedures to help engineers keep track of their location in spots where there is no positive train control.
Eisenberg's client, Kate Varnum, suffered a shattered pelvis and multiple hip fractures when the train's third car left the tracks and landed on its side. After months of rehabilitation and multiple hip surgeries, she can walk with assistance, but struggles to perform normal tasks.
She vented to Eisenberg about Tuesday's findings.
"She just feels like it's not an explanation," Eisenberg said of the NTSB's findings. "Even if it was that he spaced out because he was thinking about the rock, that really is a poor excuse for putting their lives at risk."
___
Associated Press writers Maryclaire Dale and Errin Haines Whack in Philadelphia contributed to this story.