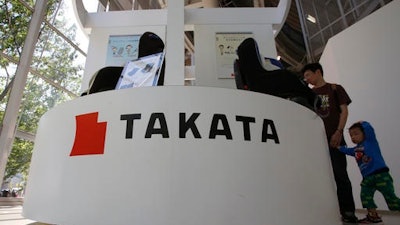 AP Photo/Shizuo Kambayashi
TOKYO (AP) — Takata Corp., the Japanese auto-parts maker behind a massive air-bag recall, is expecting a return to profit for the fiscal year through March 2017, although it just agreed to do more recalls.
Tokyo-based Takata reported a 13 billion yen ($120 million) loss Wednesday for the fiscal year that ended in March — the second straight year of red ink.
It had originally forecast a profit, but revised that to a loss earlier this week. It racked up a 29.6 billion yen loss the previous fiscal year.
What lies ahead for Takata is largely unclear because automakers handling the recalls — which includes many major automakers around the world, such as Honda Motor Co., Ford Motor Co. and BMW, will bill Takata. And all the replacements are not yet done.
Class-action lawsuits that Takata is almost certain to face will add to the ballooning expenses.
The air-bag inflators involved in the spate of recalls can explode with too much force and spew shrapnel into vehicles. The inflators are responsible for at least 11 deaths worldwide and more than 100 injuries.
Authorities in Malaysia have begun an investigation into two more recent deaths in cars with Takata air bags that ruptured.
Last week, the U.S. National Highway Traffic Safety Administration added up to 40 million Takata air bags to the ongoing recall of 28.8 million air bags.
On a global scale, that could mean more than 100 million inflators. The global recall had previously totaled about 50 million inflators. Because of the sheer numbers involved, it will take years to manufacture replacement parts.
Many automakers have said it will stop using Takata air-bags in models under development.
NHTSA says it takes a minimum of six years for the chemical to become unstable in high humidity regions. As cars age, the risk grows, especially in areas where temperatures frequently cycle from cool to hot.
Takata's earnings numbers so far do not account for the latest round of recalls.
The Japanese government has instructed automakers to look into the additional recalls, based on the latest NHTSA agreement.
For the fiscal year that ended in March, Takata's sales rose 12 percent from a year earlier to 718 billion yen ($6.6 billion). That is forecast to drop 7 percent to 670 billion yen ($6.2 billion) for the fiscal year through March 2017.