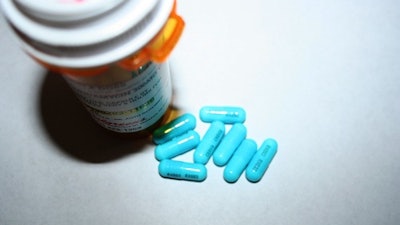 Flickr
WASHINGTON (AP) — Federal health regulators will add their strongest warning labels to the most widely used prescription painkillers, part of a multi-pronged government campaign to reverse an epidemic of abuse and death tied to drugs like Vicodin and Percocet.
The Food and Drug Administration announced Tuesday plans to add a boxed warning — the most serious type — to all immediate-release opioid painkillers, which include roughly 175 branded and generic drugs.
Those medications, which often combine oxycodone with lower-grade pain relievers, are among the most commonly prescribed drugs in the U.S. and account for 90 percent of all opioid painkillers prescribed.
The long-awaited change comes roughly three years after the FDA added similar warnings to long-acting opioid drugs like OxyContin, which slowly release their doses over 12 hours or more. The labeling switch means both immediate and extended-release formulations will highlight information about the risks of addiction, abuse, overdose and death.
"We're at a time when the unfathomable tragedies resulting from addiction, overdose and death have become one of the most urgent and devastating public health crises facing our country," FDA Commissioner Dr. Robert Califf said on a call with reporters. "I can't stress enough how critical it is for prescribers to have the most current information."
Critics of the FDA's approach to opioids, including the group Physicians for Responsible Opioid Prescribing, have long called on the agency to bolster warnings on immediate-release opioids.
"The main driver of our opioid epidemic is addiction, and the immediate-release products are just as addictive ... that's why they should be prescribed more cautiously," said the group's founder, Dr. Andrew Kolodny, an addiction therapist.
The new label specifies that the drugs should only be used for pain that cannot be managed with other medications and alternative therapies.
"This new indication, once finalized, will remind prescribers that immediate-release opioids are also powerful drugs with important safety concerns," said Dr. Doug Throckmorton, a deputy director in the FDA's drug center.
Throckmorton said the agency's 2013 labeling change focused on long-acting drugs like OxyContin because they represented a "disproportionate risk" to patients, since they contain larger opioid levels.
But lawmakers from states that have been plagued by opioid addiction said such labeling changes have "done little" to stem the problem.
"Unfortunately, it has taken FDA far too long to address the grave risks of these drugs that have claimed the lives of thousands this year alone," said Sen. Edward Markey, D-Mass.
Opioids are a class of powerful and highly-addictive drugs that include both prescription drugs like codeine and hydrocodone, as well as illegal narcotics, like heroin. Prescription opioids accounted for over $9 billion in sales last year for companies like Teva Pharmaceuticals, Johnson & Johnson's Janssen Pharmaceutical, Purdue Pharma and others.
Deaths linked to misuse and abuse of prescription opioids climbed to 19,000 in 2014, the highest figure on record, according to the Centers for Disease Control and Prevention. Heroin and opioid painkillers combined caused 28,650 fatal overdoses. Many prescription opioid abusers eventually switch to heroin because it sells for far less than black market pills and tablets.
Government officials have already tried a variety of approaches to tackling painkiller abuse in recent years. The FDA previously restricted drugs like Vicodin to limit refills and who can prescribe them. States like Florida and New York have cracked down on "pill mills" using databases to monitor what doctors are prescribing. Earlier this month, Massachusetts signed into law a seven-day limit on first-time prescriptions for opioids — the first of its kind in the nation.
The FDA announcement comes less than a week after the CDC released the first-ever national prescribing guidelines for using opioids. The agency said primary care doctors should only turn to opioids after considering physical therapy, over-the-counter medications, counseling and other methods for treating chronic pain. When prescribing opioids for short-term pain, the agency said doctors should prescribe a 3-day supply, whenever possible.