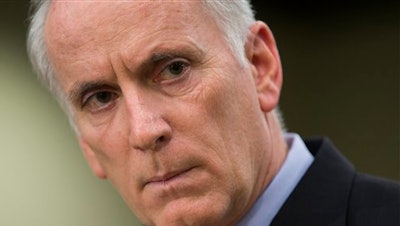 AP Photo/Evan Vucci
It's already being branded #Metromageddon.
Hundreds of thousands of Washington, D.C., workers were preparing for a potentially soul-sucking commute with the rail system serving the nation's capital facing a full-day shutdown Wednesday for an emergency safety inspection of its third-rail power cables.
The federal government took some of the pressure off the city's traffic-choked highways by announcing Tuesday that workers have the option to take the day off or telecommute. The announcement from the Office of Personnel Management came under pressure from several members of Congress who said their constituents would have no way to get to work.
The Metro system's general manager, Paul Wiedefeld, said the closure was necessary to ensure the safety of passengers after a series of electrical fires on the tracks.
"While the risk to the public is very low, I cannot rule out a potential life and safety issue here, and this is why we must take this action immediately," he said.
Metro is the nation's second-busiest transit network: Its six rail lines and 91 stations serve more than 700,000 riders daily, and it is a vital link for federal workers and other commuters to Washington from Maryland and Virginia. The system will shut down at midnight Tuesday and remain closed until 5 a.m. Thursday, a total of 29 hours.
D.C. Councilmember Jack Evans, the chairman of Metro's board, said that while the system had previously been closed for days for weather, including earlier this year, Wednesday was believed to be the first time the system would be shut down for mechanical reasons.
A fire on the tracks led to major delays throughout the system on Monday. The fire was caused by the same kind of electrical component that malfunctioned last year and caused a train to fill with smoke inside a downtown Washington tunnel, killing one passenger and sickening dozens.
Wiedefeld said that during the shutdown about 600 so-called jumper cables will be inspected throughout the system. Wiedefeld said those cables were inspected after last year's L'Enfant Plaza fire, and deficient ones were replaced.
Rep. Gerry Connolly, a Virginia Democrat, called the decision to shut down "a gut punch to the hundreds of thousands of commuters who depend on the system."
"While I am extremely frustrated with this news, safety must be our No. 1 priority," Connolly said in a statement. "This dramatic action highlights the need for long-term safety and reliability improvements throughout the system."
News of the closure exploded on social media, where criticism of Metro's shortcomings is a daily occurrence, with some on Twitter dubbing the situation "#Metromageddon" or "#Metropocalypse."
Metro riders taking trains home during Tuesday's evening rush hour heard loudspeaker announcements in stations about the closure. Many said they hoped offices would close or let employees work from home.
"It's really frustrating. It's how everybody gets to work," said Atlee Ahern, 23, a Justice Department intern awaiting her train home to Bethesda, Maryland. "The whole system shuts down, the whole city shuts down."
Ahern, who rides Metro every workday, said she did not see how it would be possible for her to get to the office.
Brian Kirchner, 46, a federal contractor, said he was delayed by two hours getting home to Hagerstown, Maryland, on Monday because of the fire. He commutes by car, bus and Metro to his job downtown.
"I guess I won't be coming to work tomorrow," Kirchner said.
District of Columbia Mayor Muriel Bowser said additional police officers would be deployed to help deal with anticipated traffic gridlock. Construction work by city road crews will be suspended, and the city will increase service on its Circulator buses as well as offering free 24-hour memberships in the city's bike-sharing program.
Another population affected by the closure: District of Columbia schoolchildren. The city does not have traditional school buses and many students rely on Metro, which they are allowed to ride for free, to get to school. The school system announced that while schools would be open, absences and tardiness would be excused. D.C. Council member David Grosso said he was concerned about student safety.
"This is a significant disruption for many of our families," Grosso said.
Some commuters said they welcomed the decision out of concern for their own safety.
"If they're going to prevent some catastrophe from happening, then it's fine with me," said Alex Smith, a 44-year-old trade association administrator who lives in Washington. "It almost seems like something they needed to do a long time ago."