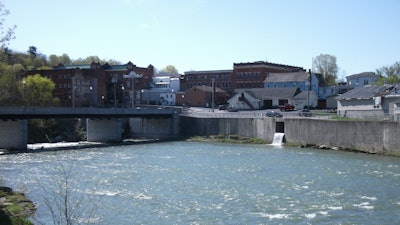 (AP) — Two industrial companies will be held liable for the cleanup of a toxic chemical that found its way into an upstate New York village's drinking water, the acting state environmental commissioner said Thursday.
The Department of Environmental Conservation sent a letter to New Jersey-based Honeywell International and Saint-Gobain Performance Plastics demanding that they enter into binding consent orders to finance a state Superfund cleanup launched four weeks ago in Hoosick Falls, a small village on the Vermont border. The agency said other companies may be identified later and held liable.
"We will hold all companies responsible for groundwater contamination and make sure they pay all costs associated with the investigation and remediation of the source of the problem as well as assuring a usable drinking water source," commissioner Basil Seggos said.
The federal Environmental Protection Agency told Hoosick Falls residents to stop drinking municipal water in December, more than a year after contamination of the system serving 4,500 people was revealed by a private citizen and confirmed by local officials. The chemical, PFOA, or perfluorooctonaoic acid, was used for decades in non-stick and stain-resistant coatings and hundreds of other products.
DEC traced the contamination to the site of the village's largest employer, a factory acquired by Saint-Gobain that previously was operated by Honeywell predecessor AlliedSignal Laminated Systems between 1986 and 1996 and other companies before that.
"As we've done from the first time we were notified about PFOA in Hoosick Falls in December 2014, we will continue to cooperate with all parties involved," Saint-Gobain spokeswoman Dina Pokedoff said.
Honeywell spokeswoman Victoria Ann Streitfeld said the company sent state health officials a letter last week offering assistance. "We met with agency officials on Monday again offering cooperation," Streitfeld said. "We are committed to continued cooperation."
PFOA, which manufacturers have voluntarily phased out, doesn't break down in the environment and has been linked to numerous diseases including cancer. The EPA has set a nonenforceable short-term exposure limit of 400 parts per trillion for PFOA in drinking water, but water suppliers aren't routinely required to test for it.
Groundwater under the Saint-Gobain plant near Hoosick Falls municipal wells tested at 18,000 ppt, the company reported last year. Municipal and private wells have tested at levels above 400 ppt. Saint-Gobain has been providing residents with free bottled water and has volunteered to pay for a new carbon filtration system currently being installed to remove PFOA from the municipal water supply.
The Hoosick Falls contamination is likely to come up during hearings in the state Assembly on water quality and aging infrastructure scheduled for April. Earlier this week Senate Majority Leader John Flanagan, R-Long Island, said he'd be open to holding hearings, but only after the state finds a way to "fix the problem."