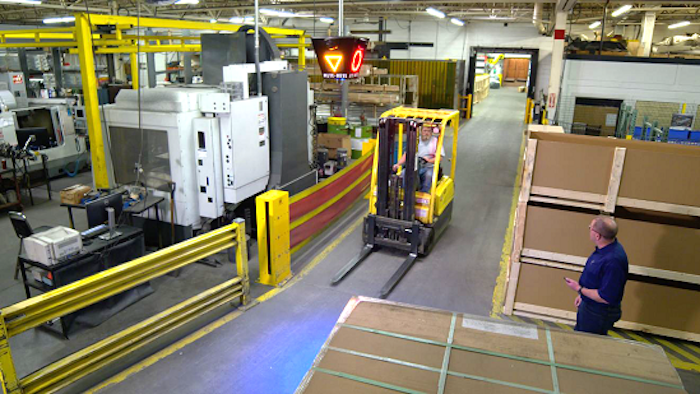 The Safe-T-Signal intersection warning system from Rite-Hite (Milwaukee, WI) is designed to improve the safety of blind corners in facilities. The ceiling-mounted system alerts workers when traffic is approaching from other directions using LED lights in the shape of red stop signs (octagon) and amber yield (triangle) signs. Safe-T-Signal uses unidirectional microwave sensors to differentiate approaching traffic in all directions, whether it's a 4-way, 3-way or 2-way intersection. When an object is within sensing range, the other directions on the device show an amber-colored yield sign. The worker approaching the intersection will not be presented with any lights. However, when two or more objects are approaching from multiple directions, those workers will see red LED lights on the device. The remaining directions will show amber LED lights. Additional features include:
High-visibility 40 lumen LED stop/yield signals.
A high-intensity 440 lumen blue signal that projects on the floor of the intersection.
Less than 10W are required to run the device during standby, while fewer than 50W are needed at maximum use.
A steel construction, with a ¾-inch rigid conduit.
The ability to operate in temperatures as cold as -40 degrees F and as hot as 140 degrees F.
www.ritehite.com; 800-456-0600