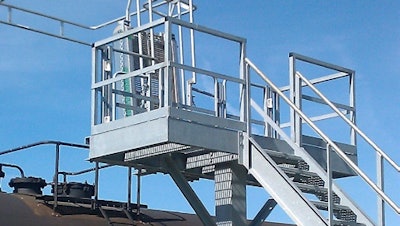 GREEN Insta-Rack Pedestal Platforms manufactured by Benko Products, Inc. (Sheffield Village, OH) provide a safe, protected area for workers to easily access the tops of single-dome tank/bulk trucks, tank cars and hopper cars. GREEN Insta-Racks have many unique features, including:
Single or double-sided access.
Static, pivot or slide-track mounting.
Custom designs and various integration options with loading arms and pumping stations.
The GREEN product line includes flat ramp, telescoping, and self-leveling stair gangways, truck and railcar loading racks, stationary and portable platforms, loading / vapor arms, spill containment pans, portable transloading carts, horizontal lifeline systems, caged ladders, pipe racks, custom structural, and more. All GREEN platforms are engineered for operator safety, compliance with governing O.S.H.A. standards and for your specific application. Platforms can be customized to meet the demands of any size operation.
www.green-mfg.com; 440-934-2180