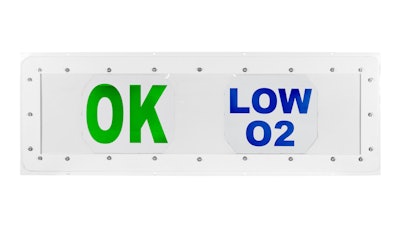 Larson Electronics (Kemp, TX) offers their dual-colored, explosion-proof LED warning light equipped with two 150-watt LED light fixtures. Additional features of the HALD-48-2X150LED-V2-C-OXM explosion proof LED warning light include:
Approved for use in hazardous environments where explosive and flammable gases, vapors, and dusts may exist.
Designed for use in industrial environments where oxygen levels are monitored within the atmosphere and have the potential to fall below the OSHA recommended concentration.
LEDs indicate the status of oxygen levels within the environment – as a green "OK" sign or blue "LOW O2" sign is illuminated.
Built within a copper-free aluminum alloy body with a special heat-dissipating design.
Rated for Fs 209E and ISO 14644 cleanroom applications.
Weatherproof, dust-proof, and marine-rated for wet environments, with a 50,000-hour life span.
Larsonelectronics.com; (800) 369-6671