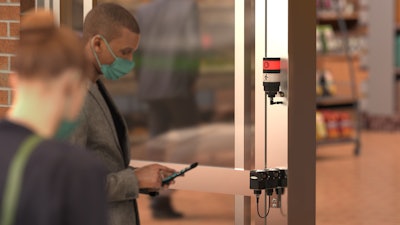 Digi-Key Electronics
The year 2020 has certainly seen its fill of challenges with the onset of COVID-19. Manufacturers and retailers have had to move quickly to find easy-to-implement, scalable solutions to create safer environments for their employees and customers. With varying and shifting guidance on requirements, employers required a solution that would facilitate social distancing and automate occupancy monitoring and reporting.
The Problem
With an entrenched pandemic, employers are reviewing all common spaces through a new lens, from shared workstations to locker rooms, bathrooms, and breakrooms. And where most states have issued occupancy guidelines, employers also found employees required visible safety measures to return to work productively without concern. The question: how to automate occupancy in active partnership with employees and customers? Posting employees outside each door to keep manual count of entry and exit requires valuable labor resources and is prone to error.
By partnering with Banner Engineering, Kautex Textron implemented a solution capable of monitoring all entrances and exits, as well as alert employees when occupancy capacity has been reached and when common areas are safe to enter.
The Solution
Banner's Occupancy Monitoring System automates counting and notifications using Q45 paired sensors. The sensors detect individuals entering and exiting, both for single-door entries and multiple-entry locations. Installed quickly, with no alterations to infrastructure, the system provides notification if traffic meets or exceeds a programmed maximum capacity.
Banner's DXM wireless controller collects data from each sensor, logs the data, and communicates status updates to a Banner Direct Select operator interface. Employee/customer lights trigger based on set occupancy limits; the system can also configure real-time text and email notifications to management with the addition of a cell plan or network connection.
Aggregated data uploads to Banner's Cloud Data Services platform automatically, which provides visualization and analysis tools. Using the Cloud Data Services platform, customers can track behavior at locations, monitor and compare behaviors at different areas of plant locations and across multiple locations, compare customer traffic to sales, and make data-driven decisions about employee scheduling.
Employees and customers appreciate the highly visible LED lights, alerting them on safe access to common areas. Green and red indicators can include icons, and custom selections of other Banner lights can be used with the system—offering a wide range of color options and animations.
Banner's solution is scalable and flexible: devices are easily added, moved, or even removed to meet changing customer needs. The solution is available as a kit with everything needed to get an occupancy monitoring solution up and running quickly. The kit comes with a DXM Series wireless controller, wireless Q45 directional detection sensor pair, Direct Select wireless operator interface, high-visibility indicator light, power supplies, and mounting brackets.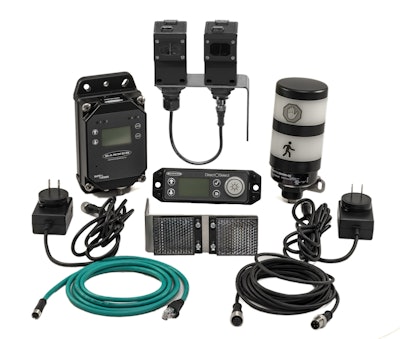 As a result of the new Occupancy Monitoring System, Kautex Textron successfully provided their employees with a safer working environment and increased peace of mind. Vince Vlaminck, Director EHS Global at Kautex Textron, said, "As we, along with other industries, battle against COVID-19 and work to provide our employees a safe return to work, we've partnered with Banner Engineering to bring Industry 4.0 solutions to social distancing and regular disinfection processes. The results bring a level of professionalism and increased visual management—and support a message to our employees that we are committed to your safety and willing to invest accordingly."
Banner Engineering has partnered with Digi-Key Electronics to stock several versions of their new Occupancy Solutions Kits which are now available for purchase. Please visit Digi-Key Electronics to learn more today.