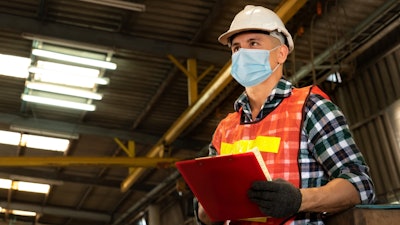 Manufacturers welcoming staff to the workplace are facing rapidly changing, and increasingly complex, staffing and safety standards. Heavily regulated manufacturing industries—such as chemicals, pharmaceuticals, and aerospace—are facing even more OSHA recommendations around employee safety, while the Centers for Disease Control and Department of Health have created their own set of updated guidelines for all of us. Less regulated industries are also playing by a completely new rulebook.
As an industry, manufacturing is already familiar with market disruptions and a host of changing regulations, and there has been lot of learning along the way. Safe and clean protocols are nothing new for many. While the current climate is inviting more regulatory and reputational scrutiny than ever before, manufacturers are looking for more digital tools and systems to better track and record practices already in place. That same system can also house new functionality to enhance safety for staff, partners, and even end users and consumers.
Creating a Contactless Culture
There is little to no room for error as manufacturers work to reemerge from the pandemic downturn. Companies across industries are beginning with the basics, focused on spacing out employees and reconfiguring workplaces for proper distancing. Building entries and exits are being separated. Employee temperatures may be taken when entering the facility.
However, those are just a start. Creating a safe and sustainable workplace needs to go much deeper than that.
Those vertical industries facing the biggest shift will be those with more traditional reliance on people-driven and high-touch production and distribution practices, such as the food and beverage industry. They are looking much more closely at how additional automation and digitized maintenance protocols can mitigate the risks of equipment contamination. Building on that, implementing real-time tracking of staff touchpoints can provide immediate identification of possible non-compliance.
Vigilance is key. While decisions around stricter practices may start with leadership, this is not just a management issue. Ensuring a clean environment and creating an audit-friendly workplace in a hypersensitive environment is a shared responsibility among all staff. This means digital tools should be intuitive and easy to use for everyone from the compliance officer to the business analyst to those working the production line.
Digitizing key operational data and integrating it with industry specific analytics also allows for a real-time, global look at critical staffing and maintenance data to help in creating longer-term health and safety strategies. Examples of that data include:
Up-to-date records on individual qualifications and certifications for those staff members working with specific equipment
Automated maintenance checklists and workflows providing visibility into who is touching and maintaining equipment, and how often they are doing so
Real-time maintenance tracking and reporting
Staff work and training schedules
Manager signoffs integrated with staff skill sets, training, and qualifications
Lock out, tag out (LOTO) data around inspection, maintenance and repair work specific to COVID-19 cleaning procedures
Opening Up with the Cloud
All this information needs to work together and depends on a nimble and agile IT infrastructure. That's why more manufacturers are looking to cloud deployment to prepare for a world where the only certainties are more audits and short-term business disruptions. At their most practical, cloud-based systems relieve manufacturers from day-to-day maintenance tasks and worries around systems security. They also fortify systems against both natural and human-made disasters and disruptions.
Cloud systems enable complete automation and integration across the enterprise, creating a single source of truth for any health and safety audit requirements. As businesses continue to pave the path to productivity, cloud opens up the possibilities of such innovations as artificial intelligence and mobile functions, making the implementation of contactless processes easier.
The fact is, there is no going back to the way things were. Working toward a healthier and safer environment will remain a work in progress. Those manufacturers that capitalize on the available automation tools and technologies will enjoy short-term success as staff returns to work, as well as long-term sustainability in the face of volatility.
Kevin Price is a technical product evangelist for Infor. For more information, visit www.infor.com.