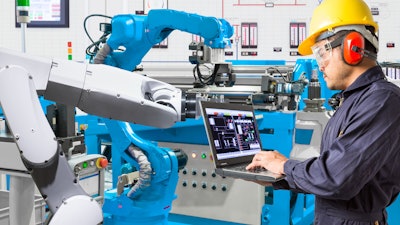 Courtesy EU Automation
The safety expert Eleanor Everet said that, "safety is not a gadget but a state of mind." However, food manufacturing plants may need to shift their perspectives on gadgets and safety. It turns how that cold temperature and forced ventilation in meat processing plants, originally intended to prevent the spread of bacteria, may actually encourage the passing of COVID-19 particles from person to person.
Research by the UK's University of Warwick found that cold temperatures and damp have much to do with the spread that has seen thousands of workers test positive for COVID-19. According to the research, factories' indoor areas, in particular, are perfect environments for coronavirus to linger.
For plant managers, these unprecedented times call for the use of new technologies and embracing the IoT and automation in ways that improve worker safety. Non-invasively installed smart sensors can, for instance, monitor temperatures of working environments. These technologies can help minimize the time workers spend in colder, higher risk areas, or from spending a lot of time at work interacting with co-workers, thus increasing the risk of COVID-19 in order to keep them safe.
Protecting workers
Monitoring the safety of machines is one thing, but what about monitoring the workers themselves? We've all read about digital tracing apps in the news, but what about applying this principle to the workforce? Such a concept might be dismissed as 'easier said than done'. After all, jobs in warehouses, factories and — frequently dangerous — food processing plants are not usually performed with a smartphone in hand.
Instead, the real answer lies in IoT-enabled wearable technologies that make it possible to monitor employees' health in real-time. Workers can even monitor their own health, and even share verified data with the company directly. Monitoring body temperature can pick up signs of illness, such as a high fever, in combination with powerful facial recognition and other biometric identification systems.
Wearable tech is already proving itself on the factory floor. Having previously more than doubled in the space of three years, increasing from 325 million in 2016 to 722 million in 2019, the number of wearable devices worn worldwide is forecast to reach more than one billion by 2022. Smartwatches, smart-gloves and smart glass with augmented reality (AR) could all be coming to a workplace near you to improve environmental safety.
One solution has been developed by the IoT connectivity and security startup Nodle - whose M1 wearable that can be clipped to an employee's shirt or badge, or worn as a necklace - in partnership with Avnet, the global technology solutions company.
The device measures just 5 cm or 2 inches, tracks distance, and notifies employees with a buzz when they get too close to one another, within 6 feet. According to Bloomberg, the device has far better precision than smartphone-based solutions, and Nodle calls it a "privacy-first contact tracing solution for enterprises to better protect employees and visitors from exposure to COVID-19."
Going retro
These technologies might create the impression that Industry 4.0 requires significant capital investment from businesses. Actually, that does not need to be the case. Instead, the key may lie in applying the latest specialist technologies, like sensors, as part of a low-cost digital retrofitting strategy.
This where an industrial automation parts supplier, like EU Automation, can play a critical supporting role. Retrofitted smart sensors can monitor the temperature of a working environments in order increase safety. Using a network of sensors to calculate temperature algorithms, the equipment can detect when a temperature falls above or below an environment's average temperature margins, and alert plant managers via a human machine interface (HMI) on a phone or computer.
Because these systems operate in real-time, workers can react quickly to any safety and logistical issues or remove employees from the environment until the temperature has been regulated to safe level. Data gained from sensors can also be more easily communicated through easily-accessible, automatically-generated safety reports. This helps alert workers to ensure they meet guidelines, and safety can be engrained into employees' daily workflow and the plant's working culture.
With new technologies, managers of food processing lines and meatpacking plants can help reduce the time spent by workers in cold environments and, to paraphrase Eleanor Everet, "ensure that safety is not merely a gadget, but also a state of mind."