Digi-Key Electronics
In this exclusive interview with Joey Mulqueen and Eric Halvorson, industrial automation experts at Digi-Key Electronics, we discuss:
How new technology is making machines and plants safer.

How manufacturers are improving machine safety on old equipment.

How companies benefit from using machine safety products on capital equipment; and

The key specifications when buying machine safety equipment. 
Also, employee tracking is coming (and it's closer than you think).
IEN: How is technology being used to make machines safer? 
Digi-Key: Electrical safety is always an issue for maintenance personnel. When a technician is working on a panel or piece of equipment, they need to know if it is energized. Through more advanced lockout/tagout disconnects, and new products such as the Absence of Voltage Veri-SAFE from Panduit, technicians can ensure a panel has been de-energized and have the piece of mind that the equipment is safe before attempting to work on it. 
Some of the new product features being used to protect employees and equipment include:  
2D LIDAR (Light Imaging, Detection and Ranging) for Collision Avoidance Systems: 2D LIDAR enables equipment to be able to detect persons, obstructions, and navigate around them. Using LIDAR, the machine makes decisions to avoid, slow, or stop altogether, based on programming. 
Thermal Imaging: Thermal Imaging is being used by technicians to find hot spots in panels and equipment which can alert to malfunctions before they become catastrophic. 
IO Link: IO Link is playing a big role in predictive maintenance. Sensors alert technicians and operators when they reach their maximum number of cycles; when a piece of equipment is due for maintenance; or if tooling is operating out of specification. 
Materials: The chemical makeup of materials is playing an important role in machine safety. For instance, we are seeing the insulation on wiring become self-extinguishing when fire breaks out to prevent the spread of the fire and reducing the amount of damage caused to equipment. 
IEN: How do companies benefit by using machine safety products on capital equipment?   
Digi-Key: Companies have less downtime from damaged equipment and injured employees. Better managed employee hazards will in turn create an environment where employees can be more productive. 
In today's social media informed consumer climate, customers tend to prefer to buy their products from reputable companies that not only employ good stewardship toward our environment, but also protect their employees from unnecessary injuries. 
IEN: How are manufacturers improving machine safety? Is it mostly retrofitting old equipment, or purchasing new equipment?
Digi-Key: We see more on the retrofitting side, but there is new equipment as well. If the manufacturer has a line that is productive and efficient, they are more likely to retrofit the line with new safety technology rather than invest in an entirely new line. That said, if a line is closer to its life expectancy, machine safety can be a reasonable argument for upgrade. 
IEN: How will ongoing labor shortages impact the use of machine safety in the factory of the future? 
Digi-Key: Labor shortages result in hiring unskilled labor, which increases the need for more safeguards. Tools such as laser scanners, LIDAR, and redundant controls can provide better systems that are user friendly. Unskilled labor also creates a need for manufacturers to create more standardized solutions that can be used across multiple platforms.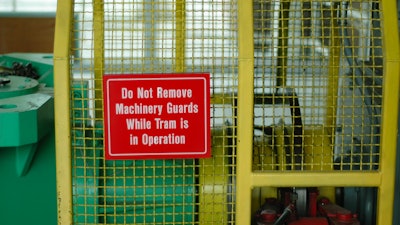 IEN: What are the key specifications that should be considered when purchasing machine safety equipment?
Digi-Key: First and foremost, a risk assessment needs to be completed by a certified safety consultant. This will alert you to any potential hazards, such as pinch points, electrocution, arc flash, etc. as well as identify any safety standards you will be required to meet. 
One piece of advice: When looking at levels of safety, always lean toward the stricter (safer) level. As for selecting safety equipment, consider the following:
Mechanical and Non-Mechanical Hazards: Identify the mechanical and non-mechanical hazards in your plant. Any mechanical hazard that might cause crushing, pinching, entanglement, or shearing needs to be guarded. Non-mechanical hazards, such as fumes, chemical splashing, dust, etc. need to be removed, ventilated, or filtered. 
Access Guarding: Controlling access using guards to the above hazards is critical. In mechanical hazards, employees need to be gated to prevent injury while the machine is in use. This can be achieved through light curtains, area scanners, door interlocks, and pressure mats. These are all however only as good as training allows. A properly trained employee will be far less likely to bypass a safety mechanism than an untrained employee. 
Energy Sources: Ensuring that energy sources are capable of being de-energized through lockout/tagout equipment and visual verification will allow employees to safely work on panels and equipment without the risk of electrocution. 
IEN: What advancements in machine safety equipment should we expect over the next five years?  
Digi-Key: In the next five years, safety won't just be an ON or OFF, we see it becoming a more progressive system. For example, as an employee enters a robot work area and reaches a pre-specified distance, the robot enters a more collaborative speed. The robot is still performing its task, but at a reduced speed to prevent injury to the employee. If that same employee continues their path toward the robot and reaches another pre-specified distance, the robot halts completely until the employee has exited the fail-safe zone and it can resume work at the reduced speed. 
Another area we see advancing, is wireless connectivity on the floor. Interconnected sensors and devices on a plant's internal network and safety equipment will mean that we no longer need physical connections. Devices will allow workers to move more freely through work areas while offering more protection. 
Finally, employee tracking is an area of opportunity. The ability to track employees throughout the plant using advanced vision systems will enable the system to detect not only employee locations,  but alert plant operators to problems, emergencies, even employees in distress.