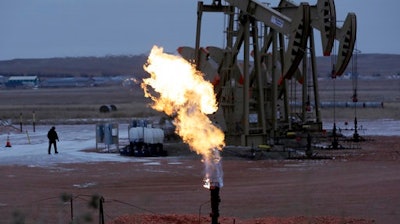 AP file
BISMARCK, N.D. (AP) — North Dakota regulators have decided not to change targets for capturing the natural gas produced from oil drilling.
The goal is set to increase in November from 85 percent to 88 percent. The Industrial Commission was to consider postponing that by two years but instead voted Tuesday to give the oil industry more flexibility to meet gas flaring regulations.
The three-member commission voted to change the gas capture policy goals to increase the volume of captured gas and reduce the percentage of flared gas.
Natural gas not captured at oil wells is burned off, a practice known as flaring that can degrade air quality. North Dakota has struggled to build enough infrastructure to capture the gas.
The problem is worse when production speeds up. Record production in September led to just 83 percent of gas being captured — the fifth straight month the 85 percent target was missed.
The commission said the gas capture policy must "be balanced with what infrastructure is in place and how the industry is evolving."