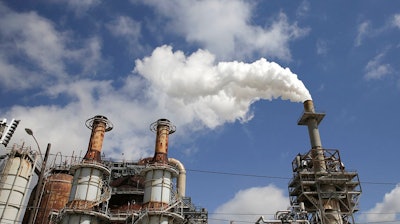 Elizabeth Conley/Houston Chronicle via AP
HOUSTON (AP) — More than a year after Hurricane Harvey slammed into the Texas coast, state environmental authorities have only just begun enforcement actions against a handful of companies deemed responsible for some of the most massive air and water pollution incidents reported during and immediately after the storm.
Two petroleum tanks located in a sprawling terminal along Buffalo Bayou in Galena Park, 8 miles (13 kilometers) southeast of downtown Houston, first sprung leaks on Aug. 31 of last year when the tanks shifted on their foundations during days of heavy rainfall during Harvey, according to documents and a statement from Magellan.
Those broken-down tanks spilled gasoline and ultimately spawned a leak that lasted for more than 12 days and created more than 2 million pounds (0.91 million kilograms) of air pollution — the storm's largest pollution incident, the Houston Chronicle reports .
But it took another 295 days before the Texas Commission on Environmental Quality sent its first notice of enforcement to that company — Magellan Terminal Holdings LP's Galena Park Terminal — on July 6, state records show.
The Houston Chronicle and The Associated Press teamed up in March to describe the impact of 100 major releases and hazardous waste spills that socked Houston alone — most of which were underreported and went without investigation for months as state and federal agencies scrambled to react to the environmental damage that accompanied Harvey's floods.
Harris County pollution control officials so far have cited eight of the biggest Harvey-related polluters, including the Magellan terminal. They sent out most notices only days after the series was published, records show.
State environmental proceeded more slowly. This week, TCEQ spokesman Brian McGovern said the agency has issued notices of enforcement to 68 Harvey polluters.
About 14 of those notices went to refineries and chemical plants, according to a list provided by McGovern. At least five of those industrial polluters were specifically cited for Harvey-related violations, but others received notices for pollution problems that predated or followed the storm, records show.
Most of the state's Harvey-related enforcement actions came after April 6, when Gov. Greg Abbott lifted a 7-month-long emergency order that had suspended most of the state's environmental reporting rules, according to lists provided by the state.
Juan Sierra lives in a residential neighborhood where the only way out was blocked for days by Harvey's floods. His home sits less than a mile from the Magellan terminal.
He's glad to hear that environmental regulators are starting to take action in response to the large pollution event reported so near his home. But he still wants to know why he and his wife and four children were not warned about the potential for explosions or about the health impacts from the air pollution either during the spill or after.
"Nobody ever notified us," he said. "To me, it's a big issue."
Sierra is hoping that officials will learn something from Harvey's environmental damage, what some activists call the second storm of pollution. He hopes next time, massive tank farm releases can be avoided - and government responses can be faster.
During a hearing in April, members of the state House's environmental enforcement committee asked TCEQ Commissioner Bryan Shaw to review Harvey-related pollution, identify its major contributors and suggest ways to prevent failing tanks, overflowing wastewater ponds and other potential pollution problems before future hurricanes and floods. That report is due in October.
Abbott's emergency order, which suspended most of the state's environmental rules, was meant to give companies flexibility and leeway. Harvey was, after all, a nearly unprecedented flooding event even in a flood-prone Gulf Coast state. But under his order, many companies delayed or amended their Harvey-related air pollution reports without explanation. Many never reported how much wastewater they spilled, according to a recent report by the nonprofit Environmental Integrity Project.
State and county environmental inspectors and regulators, faced with a huge workload of Harvey-related pollution reports, were left to try to sort through conflicting and incomplete information and determine what pollution was truly an "act of God" - as many companies have claimed - and what was avoidable environmental damage.
A few trends are showing up in environmental notices issued by TCEQ and Harris County so far:
— Statewide, dozens of chemical plants and refiners released massive amounts of air pollution during the shutdowns or startups that occurred as Harvey's record rains swept northeast 160 miles (260 kilometers) from the Rockport area toward Houston, then curved east about 90 miles (145 kilometers) to hit the Beaumont-Port Arthur refinery complex. In all, the state says it has cited 18 chemical plants or refineries for Harvey-related pollution reasons; only two of those facilities are in the Corpus Christi area, 180 miles (290 kilometers) southwest of Houston, where operators prepared for a Category 4 hurricane to strike and generally shut down more slowly than in the Houston and Beaumont-Port Arthur metro areas.
Some companies on the state's list of polluters during the storm were cited for failing to obtain the proper permits or for leakage or equipment problems reported before Harvey or after the storm passed, including Exxon Mobil's Beaumont refinery, one of the world's largest, and Arkema's Beaumont plant.
— Operators of the Phillips 66 Sweeny Refinery, in rural Brazoria County 54 miles (87 kilometers) southwest of Houston, were cited for failing to report a wastewater spill that occurred during Harvey's floods. Magellan was cited both for its major air pollution event, and for failing to report a smaller release associated with attempts to use vacuum trucks to clean up spilled gas and move it into another tank.
— Several small sewage and water treatment plants were cited by TCEQ because of Harvey spills or because they continued to report leaks well after Harvey. The small Houston suburb of Nassau Bay was among those cited for persistent leaks that bubbled up through its manhole covers, though eventually the coastal city was able to resolve those issues, documents show.
— Failing storage tank roofs or faulty bottoms that sprung major leaks in Harvey are the subject of at least three enforcement actions pending against Texas companies by the state, according to documents the Chronicle obtained through multiple records requests. In addition to the Magellan terminal, the TCEQ also has cited two refinery operators for failing to address major leaks from broken-down tanks: Houston's Valero Refinery and Blanchard Refining Galveston Bay.
At Blanchard Refining in Texas City, 35 miles (56 kilometers) southeast of Houston, one major storage tank began to leak on Aug. 27, right after Harvey struck, and continued to leak for 65 hours, releasing 7,900 pounds (3583 kilograms) of pollutants.
In nearly all cases, the notices of enforcement issued by the state remain in what can be a lengthy fact-finding or negotiation stage, according to a commission spokesman. Often such environmental actions end quietly through negotiations — a process that can lead to improvements in plant operations or procedures. Some already have been resolved that way, a TCEQ spokesman says.
Only a small fraction of Texas' enforcement actions result in penalties. Yet it has been through environmental lawsuits that some of the largest fines are levied and some of the biggest pollution problems historically have been addressed.
Valero's Houston refinery, perched on the edge of the historic Manchester neighborhood, was the source of dozens of citizens' complaints during Harvey. Its leaking storage tank saga is one of the few Harvey-related enforcement matters that state officials say they already have referred to the Attorney General's office for legal action.
Harris County and the state collaborated last year to file environmental lawsuits against Arkema's smaller plant near Crosby, 21 miles (34 kilometers) northeast of Houston, where a series of explosions led to one of the storm's most visible pollution incidents. The disaster produced a line of smoke visible for miles that forced the evacuation of more than 1,000 people during the worst of Harvey's floods.
Liberty County and local firefighters and homeowners too have sued Arkema for health and environmental damages. The Harris County District Attorney also is pursuing criminal charges against the Arkema operators.
It's unclear what will happen in the case of the massive release from the tank farm at the Magellan terminal, but it seems likely that the state and the county will pursue separate enforcement paths.
Both have cited Magellan for air pollution violations, but county officials also have alleged that the terminal failed to obtain proper permits before it built or placed at least some of its farm of petroleum storage tanks inside a coastal zone, according to the notice of violation. All or part of the Galena Park tank farm is inside the 100-year flood plain.
The newspaper separately filed a records request with the Harris County Engineering Department to review any permits obtained by Magellan for its tank farm. Harris County rules require industrial plants to obtain such permits and participate in a review prior to placing building with essential or potentially hazardous contents in flood zones, according to county officials.
County engineering officials said they have been unable to locate any construction permits Magellan obtained for the tank farm in response to the Chronicle's request. A spokesman for Magellan, Bruce Heine, said the company's position is that "all of our tanks at Galena Park are permitted in compliance with all laws and regulations."
In a statement, Heine said that the spill was reported immediately it was first discovered late on Aug. 31 and that "unprecedented rainfall" of about 60 inches that fell during Harvey "exceeded the facility's capacity to remove water due to rainfall totals" and an emergency evacuation of personnel.
The matter of whether the tanks were constructed without required permits in a flood zone remains under review, county officials said this week.
"We plan to continue to monitor this and the other Harvey related cases and while we look forward to working with the state on state law regulatory enforcement cases whenever the opportunity the presents itself, we shall continue investigating these incidents to insure the public is protected from chemical releases caused by flooding and by insuring compliance with our local flood plain management regulations as well," Assistant County Attorney Rock Owens said.