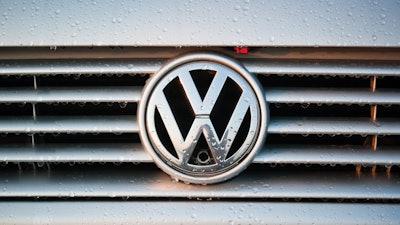 FRANKFURT, Germany (AP) — The official overseeing Volkswagen's court settlements in its diesel scandal says he is pushing back against the company's practice of withholding some information on the grounds of confidentiality protections. Larry Thompson said he has disagreed with Volkswagen's use of attorney-client privilege to redact information from documents submitted to him.
Thompson, a former deputy U.S. attorney general, made the remarks in the first of three annual reports on Volkswagen's compliance with its federal court settlement over its emissions cheating. In 2015 Volkswagen admitted rigging cars to evade diesel emissions tests aimed at restricting harmful nitrogen oxides and has set aside $27.4 billion to cover fines, recalls and other costs.
The dpa news agency reported Monday that Thompson said it is too early to say how much progress Volkswagen had made in implementing safeguards against a repeat. Volkswagen's head of legal affairs, Hiltrud Werner, said that "we have much work ahead of us."
To settle civil and criminal proceedings against it, Volkswagen agreed to conditions aimed at preventing future criminal fraud and environmental violations. The company agreed to a whistleblower policy that sets up e-mail and phone channels for reporting misconduct such as the emissions rigging.
Thompson's 60-page report said that he had discussed the redactions "on numerous occasions" with company officials and that he "has disagreed with some of the VW defendants' assertions." It wasn't immediately clear what sort of information has been redacted by VW. The report said Volkswagen had agreed to "further improvements in their provision of information."
Thompson said the issue had to be resolved ahead of the next annual report in order for him to effectively perform his duties.The report also said two violations of settlement conditions had been found and reported by Volkswagen itself, involving failing to include survey questions in a new integrity campaign and failure to notify California officials ahead of time before beginning certain vehicle testing.
Volkswagen said employees were now aware of the requirements.