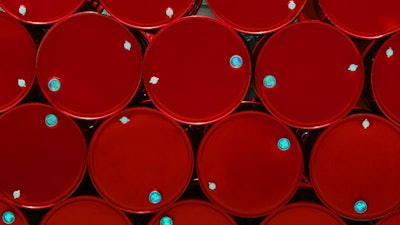 MILAN (AP) — The current and former CEOs of Italian oil giant Eni were ordered Wednesday to face trial on corruption charges for the alleged payment of bribes over the $1.1 billion sale of one of Africa's richest oil blocks in Nigeria.
CEO Claudio Descalzi and his predecessor Paolo Scaroni are among 15 defendants who will face trial in Milan beginning March 5 in a case that mirrors a separate trial ongoing in Nigeria. Both Eni and Shell, a partner in the block, also face charges.
Shares in Eni dropped 0.4 percent to 13.93 euros in Milan trading after the indictments came down.
In statements after the charges were filed, both Eni and Shell denied wrongdoing.
"Eni's Board of Directors has reaffirmed its confidence that the company was not involved in alleged corrupt activities in relation to the transaction," the company said.
It added that independent advisors had investigated the deal and found no culpability.
Shell said it was "disappointed by the outcome," and said it believed that a trial will find "that there is no case against Shell or its former employees."
Eni and Shell also are facing criminal charges in Nigeria, for the same deal, with Nigerian prosecutors alleging payment of millions to government officials and a businessman for the block's license. Nigeria's government got only $210 million from the deal.
Both companies deny wrongdoing.