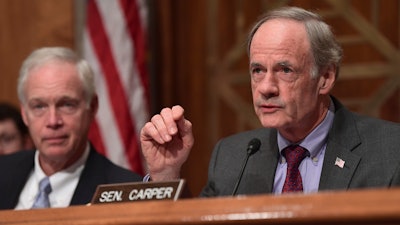 AP Photo/Susan Walsh
WASHINGTON (AP) — Federal Emergency Management Agency officials had nothing to do with approving a pricey no-bid contract to restore the power grid in Puerto Rico, the head of the agency told Congress on Tuesday.
FEMA Administrator Brock Long told the Senate homeland security committee there was "a lot wrong" with the controversial $300 million contract awarded to Whitefish Energy Holdings, a tiny Montana company from Interior Secretary Ryan Zinke's hometown.
Long testified that FEMA officials only learned about the deal after it had already been signed by the board of the Puerto Rico Electric Power Authority last month, just days before Hurricane Maria slammed unto the territory. The head of the troubled utility, Ricardo Ramos, said Sunday he would seek to cancel the contract, amid scrutiny from multiple federal and congressional investigations.
"There's no lawyer inside FEMA would have ever agreed to the language in that contract," Long said.
He said no federal dollars had yet been provided to pay for the repairs. Long said his agency has serious concerns about some of the prices listed in the document are competitive.
A price list attached to the Whitefish contract reviewed by The Associated Press sets rates for workers and equipment to be paid by the utility: $20,277 an hour for a heavy lift Chinook helicopter, $319 an hour for a journeyman lineman and $286 an hour for a mechanic. Each worker also gets a daily allowance of $80 for food and $332 for a hotel room.
Whitefish Energy Holdings is headquartered in Whitefish, Montana, which has a population of about 7,200. Zinke, a former Montana congressman, knows Whitefish CEO Andy Techmanski but has denied playing any role in helping the company land the big deal.
Whitefish has also denied any wrongdoing.
Long said his agency is now spending about $200 million a day on the ongoing emergency response to hurricanes Harvey, Irma and Maria, as well as a recent spate of devastating wildfires.
About 25 million Americans had been affected by natural disasters in the last 50 days, he said, with more than 4 million now registered for emergency aid. Long told the senators more money may eventually be needed than the $52 billion in emergency relief allocated so far.
Pressed by members of the committee on how FEMA would ensure that electricity service on Puerto Rico is restored as quickly as possible, Long said he would need additional legal authority from Congress to spend federal funds to rebuild the island's power grid better than it was.
About 67 percent of the residents on the island are still without power, while nearly 1 in 5 Puerto Ricans still don't have reliable access to drinking water.
Maj. Gen. Donald Jackson, who oversees work by the U.S. Army Corps of Engineers in Puerto Rico, told the senators the current goal is to have electricity restored to at least half the island by the end of November.
About 450 soldiers are assigned to the effort, he said, with about 400 government generators now providing power to such critical facilities as hospitals and water treatment plants.