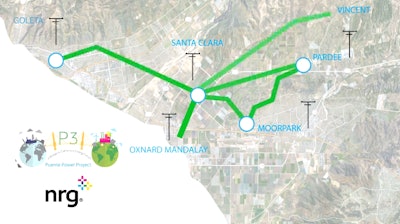 nrg
OXNARD, CALIF. -- In a rare move, a committee of the California Energy Commission says it will oppose construction of a new natural gas-fired power plant in Oxnard.
The committee, consisting of two out of five CEC members, announced Thursday that it intends to recommend that the full commission deny approval of the Puente Power Project on grounds that it will have an environmental impact that can't be mitigated and won't meet various laws, ordinances, regulations or standards.
"We acknowledge that this statement is unusual," the commissioners wrote.
It's unclear when the recommendation will be made or when the full commission will vote on the project. No immediate hearing was scheduled.
The $300 million plant is designed to replace two of three existing plants at the Mandalay Generating Station in Oxnard. The two older plants use seawater for cooling, which is against a State Water Resources Control Board policy. The third plant doesn't use seawater cooling.
The new plant would produce enough electricity to power about 150,000 homes. It already has approval from the state Public Utilities Commission but is opposed by the California Coastal Commission, the city of Oxnard and environmentalists.
"The proposed rejection of this gas-fired plant marks a turning point in California's clean energy revolution and marks a trend in re-evaluating the need for gas plants across the state," the Environmental Defense Center said in a Friday statement.
Critics contend the fossil-fuel plant would damage coastal wetlands and dunes and degrade local air quality. They argue that there are renewable energy alternatives.
The two-member committee said California's power grid operator, known as Cal-ISO, believes that alternatives to the gas-powered plant are feasible.
A Cal-ISO report in August said that solar and other energy sources could meet the expected demand, although they might be costlier options.
NRG energy, which is trying to build the plant, has argued it would serve as a bridge, providing needed electricity as California moves toward a greener energy future.
The Houston-based energy giant was disappointed by the committee's letter of intent, spokesman David B. Knox said Friday.
"We believe the record fully supports the approval of Puente. NRG favors California's move to a carbon-free electrical grid, but remains concerned about local reliability during the transition," his statement said.