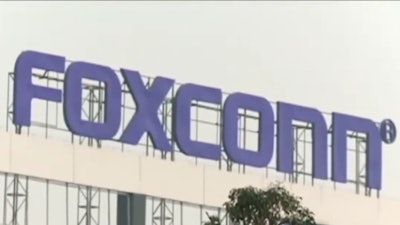 MADISON, Wis. (AP) — Wisconsin Assembly Democratic Leader Peter Barca was branded as failing "on all accounts" by a fellow Democrat who was "incredibly frustrated and concerned" with his actions after Barca joined Republicans in voting for a $3 billion tax incentive package for Foxconn Technology Group.
Emails obtained by The Associated Press show that Democratic state Rep. Lisa Subeck of Madison spelled out her grievances to Barca on Friday, the day after the Assembly passed the incentive package backed by Republicans designed to attract Foxconn to build a massive display panel factory in the state.
Barca was one of three Democrats to vote for the measure Thursday, with 28 Democrats against. Barca, of Kenosha, and the other Democrats who voted for it represent southeast Wisconsin, near where Foxconn plans to build a factory that could employ thousands. Reps. Cory Mason of Racine and Tod Ohnstad of Kenosha joined Barca and 56 Republicans in voting for the bill; two Republicans joined all other Democrats in opposition.
Most Democrats were outspoken in their opposition to the measure, branding it as a corporate welfare giveaway that also puts Wisconsin's environment in jeopardy because of requirements that would be waived to speed construction of the plant that could open as soon as 2020.
Barca tried to walk a line, criticizing the process of quickly acting on the bill and saying that more improvements could be made to protect taxpayers, Wisconsin businesses and the environment. But ultimately he said he supported the incentive package because of the backing it has from people in his district.
Subeck, in an email sent to all Assembly Democrats obtained by the AP, accused Barca of failing "on all accounts" to differentiate his views on Foxconn with that of the rest of Democrats who voted against the measure. She was particularly upset with Barca for holding an impromptu news conference in the Assembly parlor, right around the corner from his office, shortly after the evening vote Thursday.
"I am also concerned that the message you conveyed," Subeck wrote. "It seems you were trying to justify your own vote rather than share the caucus perspective consistent with our agreed upon message."
She said that Barca's public comments "have not been consistent with the majority position of the caucus and have served counter to our interest."
Barca wrote in response that he hadn't planned to have a news conference but after the Thursday vote "we had one outlet in particular that was very aggressive and several others that wanted to talk." Barca said his staff asked the reporters to move to the nearby parlor, where he and Assistant Majority Leader Dianne Hesselbein of Middleton and Rep. Mark Spreitzer of Beloit answered questions.
Barca did not address her concerns about what he actually said.
Barca spokeswoman Olivia Hwang said in an email that it was known Democrats had different opinions on the Foxconn bill and he supports efforts to oppose legislation they believe is wrong for their district or the state.
Barca does not plan to testify at a public hearing Tuesday in Racine on the bill, she said. Subeck raised concerns in her email about Barca testifying at the hearing scheduled for near where the plant may locate.