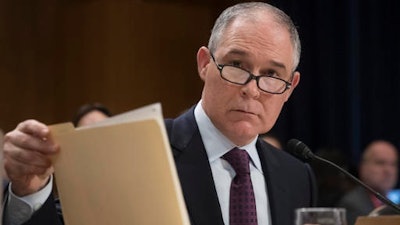 AP file
WASHINGTON (AP) — The Environmental Protection Agency issued new rules and other documents Thursday outlining how it will regulate toxic chemicals under a landmark law passed by Congress last year.
The rules, issued on the one-year anniversary of the law's signature by President Barack Obama, set standards for how the EPA will identify and evaluate high-priority chemicals and impose reporting requirements for industry.
The new law regulates tens of thousands of toxic chemicals found in everyday products, from household cleaners to clothing and furniture. The EPA said last year it will review such common chemicals as asbestos and trichloroethylene that for decades have been known to cause cancer, yet have been largely unregulated under federal law.
Congress approved the Frank Lautenberg Chemical Safety Act last year in a bipartisan bid to clear up a hodgepodge of state rules governing chemicals and update the Toxic Substances Control Act, a 1976 law that had remained unchanged for 40 years.
EPA Administrator Scott Pruitt said the rules issued Thursday demonstrate the Trump administration's commitment to providing "regulatory certainty to American businesses, while protecting human health and the environment."
"The new process for evaluating existing chemicals outlined in these rules will increase public confidence in chemical safety without stifling innovation," Pruitt said.
The EPA so far has identified 10 chemicals that will be studied to determine whether they present an "unreasonable risk to humans and the environment." The agency will then determine what steps, if any, should be taken to mitigate the risk through new regulations — including banning the chemicals from use in the United States.
Once the EPA completes its review of the initial 10 chemicals, studies will begin on dozens of other suspect chemicals. With tens of thousands of chemicals manufactured each year within the U.S. or imported from other countries, the EPA is prioritizing those that are the most dangerous and widely used, including asbestos.
Valued for its resistance to heat and corrosion, asbestos was widely used for decades in such products as building materials, pipe insulation and floor tiles before studies linked it to lung cancer and other diseases. The EPA first tried to ban the use of asbestos in the late 1980s, but a federal appeals court ruled the agency had exceeded its authority.
Though most domestic manufacturers voluntarily stopped using asbestos in commercial products, it can sometimes still be found in imported products such as automotive brake pads
The chemical industry has long lobbied for less-stringent scientific assessments for newer chemicals that companies are trying to get into the marketplace.
In a statement Thursday, the American Chemistry Council, an industry group, commended the EPA for meeting the one-year deadline. While it is still analyzing the new rules, the group said it expects the EPA will "establish the framework for a modern chemical management system capable of meeting 21st century demands."
Rep. Frank Pallone, D-N.J., said changes made by the EPA since the law was approved appear to significantly weaken the law.
"It appears that Administrator Pruitt intends to ignore more chemical uses and exposures at every stage of the regulatory process" and label thousands of chemicals as safe in order to avoid review, Pallone said. "As someone who worked to strengthen this law, I'm deeply disappointed by these final rules."