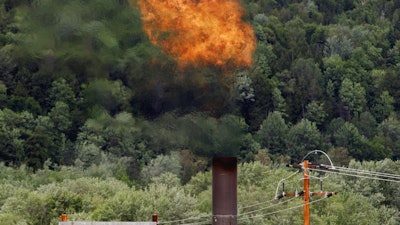 AP Photo/Toby Talbot, File
WASHINGTON (AP) — The Trump administration is delaying two Obama-era regulations aimed at restricting harmful methane emissions from oil and gas production.
The Environmental Protection Agency said it is seeking a two-year delay for oil and gas companies to follow a new rule requiring them to monitor and reduce methane leaks from their facilities. The delay follows a 90-day pause ordered earlier this year.
EPA Administrator Scott Pruitt said the agency is reconsidering the 2016 rule, which he said may duplicate state rules that can achieve equivalent or better results in reducing methane emissions.
Meanwhile, the Interior Department is indefinitely postponing a separate regulation intended to reduce the amount of heat-trapping methane released into the atmosphere from oil and gas wells on federal lands.
A bid to overturn the rule failed unexpectedly in the Republican-led Senate last month, prompting Interior officials to promise to suspend, revise or rescind the rule.
Katharine MacGregor, acting assistant Interior secretary for land and minerals, said the methane rule imposes a "significant regulatory burden that encumbers American energy production, economic growth and job creation."
The Obama-era rule, finalized in November, "is expected to have real and harmful impacts on onshore energy development and could impact state and local jobs and revenue," MacGregor said, adding that states such as North Dakota, Colorado and New Mexico "could be hit the hardest."
Kathleen Sgamma, president of the Western Energy Alliance, a trade association representing more than 300 companies, praised the twin moves on methane. The alliance and other oil industry groups challenged the methane regulations in court.
"Both rules vastly exceeded federal authority," Sgamma said in a statement. "The Trump administration is correcting that overreach from the prior administration, thereby saving jobs and supporting American energy independence."
Even though the two rules are delayed, "industry will continue to increase methane capture rates as it has for the past three decades" through better technology and improved drilling techniques, she said.
Delaying the standards will increase smog and other dangerous air pollution, with irreversible harm to public health and the environment, said Mark Brownstein, vice president of the Environmental Defense Fund.
"The oil and gas industry tell us natural gas is a clean, low-carbon fuel, but industry lobbyists and lawyers then argue to remove the protections necessary to deliver on that claim," he said, adding that the Trump administration appears "only too happy to throw common sense out the window" to serve corporate interests.
"Disregarding the will of the people, the interests of taxpayers and legal safeguards —all in the name of doing the bidding of the oil and gas industry — is shameful," Brownstein said.