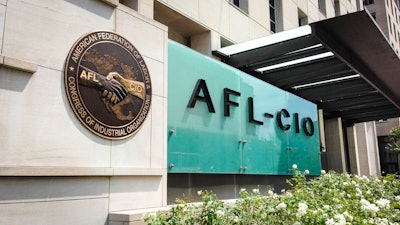 Wikimedia
LOUISVILLE, Ky. (AP) — Organized labor struck back Thursday against Kentucky's right-to-work law, filing a lawsuit that claims the ban on mandatory union fees in workplaces violates the state's Constitution.
Republican Gov. Matt Bevin, a leading supporter of the new law, was named a defendant along with Labor Secretary Derrick Ramsey in the suit filed in Franklin Circuit Court in Frankfort.
The Kentucky State AFL-CIO and Teamsters Local 89 filed the suit, which asks a judge to temporarily block the right-to-work law while the suit proceeds. The labor groups said the law should be struck down for violating numerous sections of the Kentucky Constitution.
The lawsuit came just a few months after hundreds of union supporters shouted their opposition as the GOP-led legislature passed the right-to-work measure.
"Obviously, with the legislature the way it is structured at this point, the court is our only logical opportunity for redress to their egregious law," said state AFL-CIO President Bill Londrigan.
Londrigan said the lawsuit seeks to protect union rights to bargain collectively "without government interference." It also aims to prevent wages from eroding as a result of "this misnamed, discriminatory and punitive legislation," he said.
Bevin spokeswoman Amanda Stamper accused the labor groups of "political games" with a "frivolous" suit that threatens to hurt families by "robbing them of high-paying job opportunities."
Republican backers of the law said it has already paid dividends, noting that a business executive cited it in announcing his aluminum company's plans to build a plant and hire 550 people in the state's economically struggling Appalachian region.
The legislature's top Republicans — House Speaker Jeff Hoover and Senate President Robert Stivers — said they think the law is on solid legal ground. "Kentucky is a different state today than it was six months ago, thanks to right-to-work," Hoover said.
Republicans say right-to-work laws create jobs. Democrats counter that the laws weaken labor unions, leading to lower wages and unsafe working conditions.
The law bans labor unions from collecting mandatory dues from employees they represent in collective bargaining. The law's critics say those provisions weaken union bargaining power by allowing workers to avoid paying union fees while benefiting from having a union.
"No other state law requires any organization to give away its services, but under this law, Kentucky's labor unions must do so," said Irwin Cutler, an attorney for the Kentucky State AFL-CIO.
The push to enact right-to-work laws has gained momentum in recent years in states where voters elected Republican legislative majorities. Twenty-eight states have enacted such laws, according to a list provided by the National Conference of State Legislatures.
In Kentucky, the Republican-controlled state Senate tried for years to pass a right-to-work law, but was blocked by the Democratic-controlled House. Republicans consolidated their power in the legislature last November when the GOP won a big House majority.
The right-to-work measure was among several Republican priorities that passed during a fast-paced first week of this year's legislative session. Lawmakers also repealed a union-backed law guaranteeing higher wages for construction workers on publicly financed projects.
Hundreds of union supporters chanted "we will remember in November" in the state Capitol in Frankfort as lawmakers gave final passage to the measures on a rare Saturday session in January.
"We're not going to let folks forget who voted how," Londrigan said Thursday, looking ahead to next year's elections.
Kentucky's right-to-work law took effect immediately after Bevin signed it in January.
An aluminum company CEO recently credited the right-to-work law as a significant factor in his decision to build a $1.3 billion plant in northeastern Kentucky.
Braidy Industries Inc. promised to hire 550 people and pay them nearly twice the average household income of an area reeling from the loss of coal and manufacturing jobs.
Meanwhile, both sides in the dispute over Kentucky's right-to-work law pointed to court decisions they see as strengthening their position. A federal appeals court upheld Indiana's right-to-work law, while a circuit judge in West Virginia blocked enforcement of that state's law.