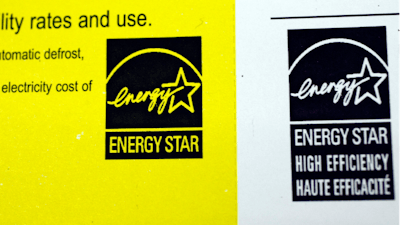 AP Photo/Paul Sakuma, File
WASHINGTON (AP) — More than 1,000 U.S. companies, including some of the nation's largest manufacturers, are urging Congress to preserve the 25-year-old Energy Star program to promote efficiency in home and business products.
President Donald Trump's proposed budget would eliminate funding for Energy Star, which encourages efficiency in major appliances, office equipment, lighting and home electronics.
Companies including United Technologies Corp., Ingersoll Rand and Staples call the program a model for successful collaboration between the public and private sectors.
In a letter to the Trump administration and congressional leaders, the companies say Energy Star "should be strengthened, not weakened" to encourage businesses and consumers to conserve energy.
United Technologies is the parent company of Carrier heating and cooling, Otis elevators and Pratt & Whitney engines, while Ingersoll Rand is the parent of Trane heating and cooling. Other companies signing the letter include LG Electronics USA, Panasonic Corp. of North America, Samsung Electronics America and Nest thermostats, owned by Google.
Energy Star, begun in 1992, is known for its blue-and-white star logo that appears on hundreds of products from washing machines to furnaces and computers. The program costs about $50 million per year to administer, while saving consumers more than $34 billion per year in reduced energy costs.
The White House proposed eliminating the program, along with other programs at the Environmental Protection Agency, in its 2018 budget plan.
"I don't know who recommended shutting down this program to the president, but I can assure you it was bad advice that would hurt American businesses, consumers and our overall economy," said Kateri Callahan, president of the Alliance to Save Energy, a Washington-based advocacy group. The alliance organized the business letter.
"This letter demonstrates the enormous business support for a venerable public-private partnership and sends a clear directive to Washington: Keep the Energy Star program going and growing," Callahan said.
Steve Yurek, CEO of the Air-Conditioning, Heating and Refrigeration Institute, said Energy Star encourages companies to "push the envelope with respect to energy efficiency" in order to claim the coveted star logo for their products.
"The program provides an easy way for consumers to identify the most efficient products on the market, and we feel that provides enough value to justify its continuation in some form," he said.