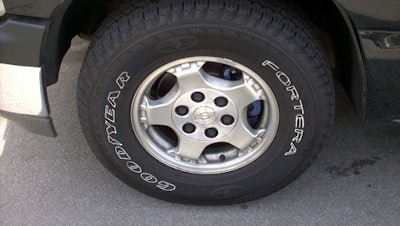 WASHINGTON (AP) — A unanimous Supreme Court on Tuesday sided with Goodyear Rubber & Tire Co. in a dispute over a $2.7 million penalty the company was ordered to pay an Arizona family to reimburse their legal fees in a personal injury case.
The justices sent the case back to a lower court to decide whether an Arizona family injured in a 2003 motor home accident is entitled to the entire amount.
The family sued Goodyear after they were seriously injured when a tire failed on their motor home, causing it to flip off the road. After settling the case in 2010, the family discovered the company hadn't turned over key testing data.
A federal judge said nearly all of the family's attorney fees could be blamed on the misconduct and he ordered the payment. A federal appeals court agreed.
Justice Elena Kagan said such a penalty must be limited to the fees the family incurred solely because of the misconduct. She said Goodyear's failure to disclose the data was not responsible for every legal expense incurred in the case.
The Supreme Court ordered the lower court to apply the correct legal standard.
Newly confirmed Justice Neil Gorsuch did not take part in the case, which was argued before he took his seat on the court.