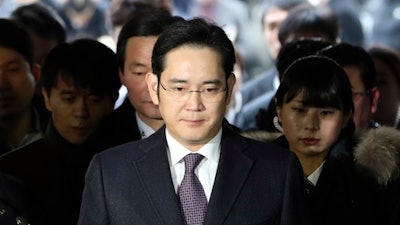 AP Photo/Lee Jin-man, File
SEOUL, South Korea (AP) — Five Samsung executives, including the company's 48-year-old billionaire heir, will stand trial in the coming months on bribery, embezzlement and other charges linked to a massive scandal that toppled South Korea's president.
Before being arrested earlier this month, Lee Jae-yong, the third generation of the Samsung founding family, was seen as bringing a string of changes to South Korea's largest business group, such as increasing shareholder returns. The criminal charges can put the Samsung scion, his former mentor and three other Samsung executives behind bars for several years if they are found guilty.
What you need to know and what we can expect next:
Why Samsung?
Even though Samsung is one of dozens of South Korean business groups that have donated funds to entities controlled by Choi Soon-sil, a longtime confidante of South Korean President Park Geun-hye, the special prosecution team investigating the scandal focused on Samsung. This was in part because the investigation period was limited to 70 days. It was also due partly to the fact that Samsung's donation was the largest and Samsung was the only family-controlled business group to separately have signed a multimillion-dollar contract with Choi's company in Germany that bankrolled equestrian training for her daughter.
Prosecutors believe that during Samsung heir Lee's three private meetings with Park from 2014 to 2016, the president asked Lee to support Choi's various entities in exchange for giving the government's support for a smooth company leadership transition, an allegation denied by Samsung.
Samsung also takes a special place in South Korea, where citizens sometimes call the nation the "Republic of Samsung" due to its widespread influence in everything from exports and jobs to health care, academics and more. Samsung's nearly 60 affiliated companies account for a third of South Korean stock market capitalization.
Reforms, Again

Shortly after prosecutors announced that five Samsung executives would stand trial, Samsung issued a statement laying out a list of measures in an apparent effort to appease public anger by tackling the problems that have emerged as the scandal unfolded, including disbanding a shadowy office.
Known as the Corporate Strategy Office, the office consists of the Lee family's right-hand aides who exert influence behind closed doors on big business decisions, including promotions and personnel reshuffling, at dozens of Samsung affiliates. The office has been criticized for orchestrating the elaborate, decades-long father-to-son leadership transition since Lee was in his 20s that involved tax evasion and breach of trust toward investors, according to court rulings. Aware of the public criticism of the shadowy office, Lee's father promised to disband it after he was indicted in 2008. But that promise was not carried out.
The younger Lee reiterated the promise in December to lawmakers as the office came under fresh scrutiny for its role in the latest scandal. But the criminal investigation has left few key figures at the office free of allegations. The current head of the Corporate Strategy Office, Choi Gee-sung, offered to resign and leave the company after prosecutors revealed that they would bring criminal charges against him. Chang Choong-ki and Park Sang-jin, presidents at Samsung who also face criminal charges, will resign and leave the company as well.
Lee will likely stay on the Samsung Electronics board and as its vice chairman for the time being. Analysts said he will continue to run the company from behind prison bars, as other imprisoned business leaders have done.
Samsung also said it would disband the team that has been in charge of overseeing external relationships with government and public policymakers. In South Korea, where lobbying is illegal, the team was accused of carrying out deals with Choi's company in Germany. Samsung added that it would seek the board's approval for donations from now on.
Presidential Pardon

Lee's father, Lee Kun-hee, received a special pardon from a former South Korean president who hoped that it would help South Korea's bid to host the 2018 Winter Olympics. The elder Lee, 75, was pardoned in 2009 and South Korea won the bid to host the Olympics.
At that time, it was customary for presidents to pardon business leaders, acknowledging large companies' past and future contributions to the national economy. Upon the pardons, the company chiefs would tell the public that they would do their best for the country. Announcements of big investments and hiring plans would follow.
But the odds may be stacked against the younger Lee, with calls mounting to show no more leniency for crimes and corruption by big businesses.
Moon Jae-in, who leads popularity polls among presidential contenders, has vowed to show no tolerance of crimes committed by large companies. Moon, an opposition party candidate, also has promised to limit presidential pardons for crimes committed by the companies. Other presidential contenders have also said they will rein in large companies and pass laws to improve corporate governance and transparency.