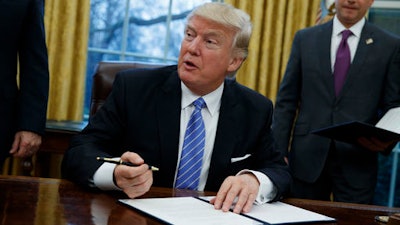 AP Photo/Evan Vucci, File
On Monday, U.S. President Donald Trump signed an executive order that formally withdrew the United States from the Trans-Pacific Partnership (TPP) trade deal.
After the event, Scott Paul, the president of the Alliance for American Manufacturing, released a response in support of Trump's actions.
"If today is any indication of the Trump administration's focus on manufacturing, it is an encouraging start," Paul said in a statement. "Withdrawing from the TPP is a first step in a long road toward reforming trade policy and we look forward to working with the administration on finding solutions to create trade deals that keep jobs here in America."
According to AAM, the TPP, if signed, would have had a negative impact on factory job gains in the U.S., specifically:
The TPP would have lowered tariffs and some other non-tariff barriers to trade, but the agreement had no protection from currency manipulation.
TPP text substantially weakens the rules of origin requirements in the NAFTA agreement. That means that goods from countries like China could have been incorporated in products assembled in the TPP region and thereby enjoy the benefits of tariff-free access to the U.S. market without sharing any of the responsibilities of TPP membership.
According to the U.S. International Trade Commission (ITC), the United States' GDP would be about 0.15 percent higher and there would be roughly 128,000 American jobs in 2032 if the Pacific-rim trade deal went through. None of those jobs were in manufacturing, though.
The same ITC report finds that American manufactured goods exports would be more than $15 billion higher than without the agreement, but that gain would be eclipsed by the $39.2 billion bump in imports.
The Peterson Institute for International Economics said that 50,000 U.S. workers, most in manufacturing, could be out of a job each year during TPP's implementation, and the Global Development and Environment Institute at Tufts University cites nearly 450,000 lost manufacturing jobs.