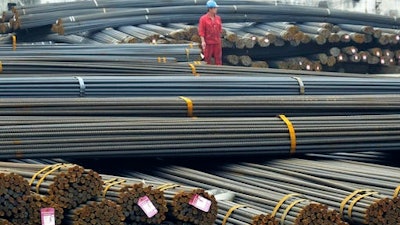 AP file
The Commerce Department announced a formal investigation Monday into Chinese steel companies accused of shipping steel through Vietnam to avoid U.S. import tariffs levied on dumped steel products.
The investigation comes as a result of a September complaint filed by U.S. Steel, ArcelorMittal, Nucor Corp., and AK Steel, and supported by the United Steelworkers union. The U.S. steelmakers charge that unfairly traded imports of corrosion-resistant carbon steel and cold-rolled carbon steel from China are being diverted through Vietnam for minor finishing in order to evade duties.
Imports of cold-rolled steel from Vietnam rose nearly 1,900 percent from the first half of 2015 to 2016. Meanwhile, Chinese steel exports to Vietnam rose 46 percent to 6.3 million tons from 4.3 million tons during the first six months of 2016.
Said Alliance for American Manufacturing (AAM) President Scott Paul:
"We commend the Commerce Department for opening an investigation into Chinese steel companies that continue to skirt U.S. law. Much like a weed that won't go away, Chinese steel products continue to crop up via new avenues to infest our open market.
"Despite dozens of successful trade cases and multiple promises to cut overcapacity, Chinese steelmakers are using every avenue possible to sell their oversupply in our market, even if it means sidestepping the law. A recent Duke University report shows that the world has far more steel than it needs, and to no one's surprise, China continues to be its main source.
"The effects of China's overcapacity are easy to see. American workers are struggling as our steelmakers are forced to compete against state-subsidized steel and our market is flooded with product priced below market value.
"The current administration has made good strides to enforce trade law, but it will be up to the next president to hold Beijing accountable. With billions of import duties still unpaid over the past decade and Chinese companies trying to work around U.S. laws, our country's makers need an advocate to enforce trade law and stop Chinese trade cheating."