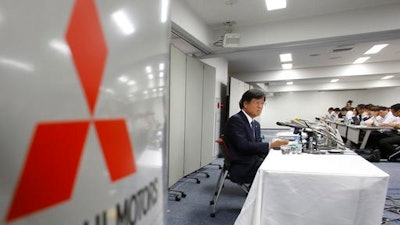 AP file
TOKYO (AP) — Japanese transport ministry officials raided the Tokyo headquarters of scandal-ridden Mitsubishi Motors Corp. on Friday after the government alleged the automaker cheated on mileage ratings on more models than earlier reported.
The systematic inflating of mileage numbers first surfaced in April, over minicars, eK wagon and eK Space, that also were sold under the Nissan Motor Co. brand. No overseas models are affected.
This week, the government said it had found similar cheating on eight more models, including an electric car, for which Mitsubishi had overstated the cruise range on a single charge.
Ministry official Yuki Ebihara said the raid, the third over the mileage scandal, was part of an investigation to find out how the cheating developed and what might be behind such persistent wrongdoing.
Tokyo-based Mitsubishi Motors is compensating owners with cash rebates. Sales of the eight models have been halted in Japan.
When the mileage discrepancy over the minicars surfaced, the government ordered mileage tests redone on other models, following the correct procedure, rather than the incorrect methods used by Mitsubishi Motors.
Mitsubishi initially said the discrepancy in the mileage was minimal. This week, Mitsubishi acknowledged they went with the best data the redone tests turned up, not the average, as required by law.
Mitsubishi's vehicle sales in Japan have nosedived, falling 35 percent last month compared to the same month last year.
Nissan has said it is taking a 34 percent stake in Mitsubishi to help its turnaround, although the deal has not yet been completed.
Mitsubishi's reputation was hammered by a massive cover-up of defects that surfaced in the early 2000s.