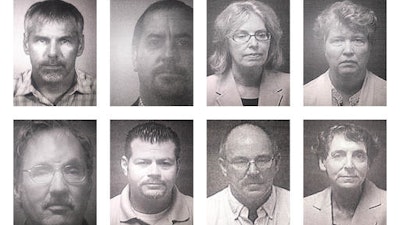 Michigan Attorney General's Office via AP
LANSING, Mich. (AP) — The prosecution of current and former state of Michigan employees for their role in Flint's lead-contaminated water crisis likely will face an early test over whether one of the most serious charges can even be levied against the middle- and lower-level government officials.
All eight workers charged so far, five from the Department of Environmental Quality and three with the Department of Health and Human Services, face a misconduct in office charge — a felony that can carry a five-year prison term. The cases are in the early stages of prosecution.
But there is no statute clearly defining official misconduct. Rather, it is a common law offense based on judicial decisions and a doctrine whose origins trace back centuries to England.
The Michigan Supreme Court has ruled that misconduct in office applies only to "public officers," not all government workers.
Peter Henning, a Wayne State University law professor and a former federal prosecutor, said Michigan is one of few states to preserve common law criminal offenses. State courts are still struggling to discern who can face the charge, he said, particularly within bureaucracies staffed mostly with non-elected or non-appointed officials.
"The higher up you get in the bureaucracy and the chain of the command, the more likely you're going to be an officer," Henning said.
Just last month, the state Court of Appeals affirmed a lower judge's decision to toss a misconduct in office charge against a Wayne County lawyer in a failed jail project. The defendant was a "public employee," not a public officer, the court ruled.
Factors to be weighed include whether a position and its duties were created, defined and delegated by the Legislature or through legislative authority. Elected officials such as the governor, lawmakers, mayors and high-ranking appointees are public officers. Police officers have been successfully prosecuted for the crime, too.
The DEQ employees worked in the Office of Drinking Water and Municipal Assistance. The former chief, Liane Shekter Smith, was fired in February while four others — district supervisor Stephen Busch, district engineer Michael Prysby, water quality analyst Adam Rosenthal and specialist Patrick Cook are suspended but recently began being paid again.
As of Aug. 1, the agency had spent nearly $1.4 million on private attorneys for those employees along with former DEQ director Dan Wyant and ex-communications director Brad Wurfel — who resigned in December and who have been named in civil lawsuits filed by Flint residents.
The Health and Human Services Department had spent $246,000 through Aug. 18 on private lawyers for 16 current or former workers, including those charged criminally: former state epidemiologist Corinne Miller, who retired in April as director of the Bureau of Epidemiology; Nancy Peeler, director of the Maternal, Infant, and Early Childhood Home Visiting program; and Robert Scott, data manager for the Healthy Homes and Lead Prevention program.
All but one of the defendants, Shekter Smith, faces at least one other felony charge — typically evidence tampering, conspiracy or both. Her attorney, Brian Morley, called the misconduct charge "murky."
"By comparison, armed robbery — pretty straightforward. Misconduct in office requires specificity. It requires as with any criminal matter an intent to either do or not do, and I don't think you see that here," he said.
Shekter Smith "complied with the law as drafted and did nothing criminally wrong," Morley said.
In announcing the second round of charges last month, Attorney General Bill Schuette said the defendants had deliberately concealed the tap water's danger from the public, allowing children to continue "drinking poison." The water was contaminated when the city switched from a Detroit-area water system to the Flint River while under state emergency management in 2014.
State regulators failed to require corrosion chemicals, letting toxic lead from old pipes leach into the supply.
A ninth government worker who was charged in the ongoing investigation — Flint utilities administrator Mike Glasgow — struck a deal, pledging cooperation in exchange for pleading no contest to willful neglect of duty, a misdemeanor.
Asked for comment on the felony misconduct charges, Schuette spokeswoman Andrea Bitely said the attorney general and special counsel Todd Flood "would not have charged these individuals if they did not have confidence in the charges. We will pursue this case in court."
Flood told WDET-FM on Wednesday that "it's always the cover-up. ... I'm not going to prosecute anybody that made a mistake. I will prosecute someone that made a decision, a culpable decision, to commit a crime."