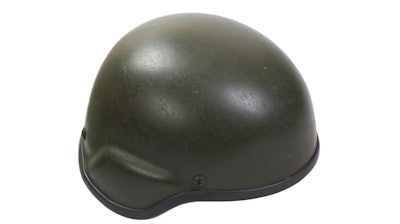 The following are excerpts from a report by the Office of the Inspector General. The full report can be found here.
The Office of Inspector General (OIG) initiated two joint investigations with the Defense Criminal Investigative Service (DCIS), and supported by elements of the U.S. Army, regarding allegations that the Federal Prison Industries (FPI) and ArmorSource LLC, manufactured and sold Advance Combat Helmets (ACH) and Lightweight Marine Corps. Helmets (LMCH) to the Department of Defense that did not meet contract specifications and were defective.
The FPI is a wholly-owned government corporation established to provide opportunities to federal offenders. It makes products for sale exclusively to the federal government and that do not compete with private sector companies. FPI is required to be financially self-sustaining.
ArmorSource is a private company established in 2005, and its production, marketing, and operational divisions are located in Ohio. In 2006, ArmorSource became an official supplier of the ACH helmet to the DOD. From 2006 to 2009, ArmorSource and the FPI, as subcontractor, produced 126,052 helmets, for which ArmorSource received $30,336,461.04.
The FPI was awarded a contract to manufacture LMCH helmets. The FPI produced approximately 23,000 helmets at its facility in Beaumont, Texas, of which 3,000 were sold and delivered to the DOD. However, the FPI did not receive payment for these 3,000 helmets because more than half of them were subsequently determined to be defective, and all 23,000 helmets were ultimately quarantined.
The investigations further disclosed that the ACH helmets produced by FPI were also defective, and that both the ACH and LMCH helmets posed a potential safety risk to the user. Both investigations determined that FPI had endemic manufacturing problems at FCI Beaumont, and that both the ACH and LMCH were defective and not manufactured in accordance with contract specifications.
The investigations found that the ACH and LMCH had numerous defects, including serious ballistic failures, blisters and improper mounting hold placement and dimensions, as well as helmets being repressed. Helmets were manufactured with degraded or unauthorized ballistic materials, used expired paint and unauthorized manufacturing methods.
The investigations also found that FPI pre-selected helmets for inspection, even though the DOD and ACH contract required helmets to be selected randomly. The investigation also found that manufacturing documents were altered by inmates at the direction of FPI staff that falsely indicated helmets passed inspection and met contract specifications.
The investigation found the following deficiencies:
Finished ACH helmet shells were pried apart and scrap Kevlar and Kevlar dust was added to the ear sections.
Helmets were repressed to remove blisters and bubbles in violation of contract specifications.
LMCH and ACH helmets had edging and paint adhesion failure.
A surprise inspection by OIG and military personnel on January 26, 2010 uncovered inmates using improvised tools (see images in gallery), damaging the helmet's ballistic material.
These investigations did not develop any information to indicate military personnel sustained injury or death as a result of the defective ACH helmets. However, 126,052 ACH helmets were recalled, and monetary losses and costs to the government totaled more than $19,083,959.
The FPI Beaumont facility that manufactured the ACH and LMCH helmets was closed and its entire staff transferred to other duties within the Federal Bureau of Prisons. Criminal prosecution resulting from these investigations was declined, and the DOJ Civil Division, Commercial Litigation Section and the Eastern District of Texas, United States Attorney's Office entered into a civil settlement agreement with ArmorSource in which ArmorSource agreed to pay $3 million.