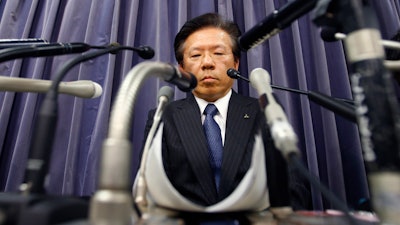 AP Photo/Shizuo Kambayashi
TOKYO (AP) — Mitsubishi Motors is giving $960 to each Japanese owner of its car as a compensation for inflated mileage and extra gas costs.
The Japanese automaker said Friday it will take a $913 million charge to cover mileage-rigging expenses, including for the eK minicar models sold in Japan since 2013, as well as $290 compensation each for some other Mitsubishi models. Minicars are tiny models popular in Japan, and generally promise great mileage.
Tokyo-based Mitsubishi Motors Corp. acknowledged in recent months that it was systematically cheating on mileage tests on a variety of models for decades. It has denied any falsified mileage data for overseas models.
Last month, Nissan Motor Co. took a 34 percent stake in Mitsubishi, promising to help a turnaround. Under a special agreement, Mitsubishi had supplied the models to Nissan, which does not make its own minicars. Nissan's own tests had uncovered the mileage cheating.
Mitsubishi Motors President Tetsuro Aikawa said last month he will step down to take responsibility for the mileage scandal, although he denied personal involvement.
Mitsubishi faces a major challenge in regaining consumer trust. In the early 2000s, Mitsubishi disclosed a massive cover-up of defects such as failing brakes, faulty clutches and fuel tanks prone to falling off, dating back to the 1970s. The automaker has repeatedly promised to fix its ethical standards among its ranks.
The Japanese government instructed all automakers to check on mileage tests after the Mitsubishi scandal surfaced. Suzuki Motor Corp., which specializes in minicars, has apologized for some improper road tests for mileage, but Suzuki said mileage wasn't false, and its dubious tests did not affect models sold abroad.