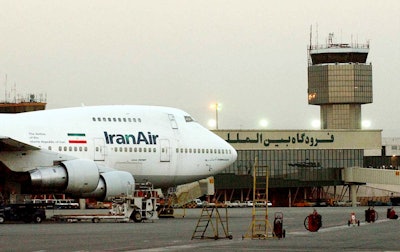 AP Photo/Hasan Sarbakhshian
TEHRAN, Iran (AP) — Boeing Co. is negotiating a deal to sell 100 airplanes to Iran, state-run media reported Sunday, a sale potentially worth billions that would mark the first major entry of an American company into the Islamic Republic after last year's nuclear deal.
Chicago-based Boeing declined to discuss details of the talks or the figure of 100 planes, attributed to Ali Abedzadeh, the head of Iran's Civil Aviation Organization. Regulatory hurdles and U.S. sanctions that remain in place after the nuclear agreement could complicate the deal. Despite efforts by the U.S. State Department to encourage trade to Iran, many American firms remain worried about the legal and political ramifications of any agreements with the country.
The state-run IRAN newspaper quoted Abedzadeh as saying negotiations took "several stages" and final figures and terms had yet to be reached. "Both sides — Iran and Boeing — have reached a written agreement for buying Boeing airplanes," Abedzadeh was quoted as saying. Fakher Daghestani, a Boeing spokesman based in Dubai, United Arab Emirates, declined to answer any questions about Abedzadeh's comments.
"Any agreements reached will be contingent on U.S. government approval," Daghestani said in a statement. A senior Obama administration official confirmed Sunday that the U.S. government would have to review such an agreement.
Under the nuclear deal with Iran, the Treasury Department will review on a case-by-case basis the licensing of individuals or entities that want to export, re-export, sell, lease or transfer to Iran commercial passenger aircraft, and associated parts and services, exclusively for commercial passenger aviation.
The official declined to be identified, citing the sensitivity surrounding corporate business dealings with Iran.
Iranian airlines have some 60 Boeing airplanes in service, but most were purchased before the 1979 Islamic Revolution that ousted Shah Mohammad Reza Pahlavi and brought Islamists to power. Out of Iran's 250 commercial planes, about 150 are flying while the rest are grounded due to lack of spare parts. Parts and servicing remained nearly impossible to get while the world sanctioned Iran over its contested nuclear program.
Included in last year's nuclear deal is approval for airline manufacturers to enter the Iranian market. Already, Iran Air has signed agreements to buy 118 planes from the European consortium Airbus and 20 more from French-Italian aircraft manufacturer ATR.
Iran is a lucrative market, with the Airbus deal alone worth $25 billion, but Boeing has treaded cautiously. U.S. sanctions not tied to the nuclear program remain in place, and American lawmakers have warned Boeing not to do business there as the Iran deal remains a hot topic in the ongoing presidential election. Boeing may need to run the sale through an overseas subsidiary and use a currency other than U.S. dollars in order to avoid running afoul of American laws.
In April, Iran's state-run IRNA news agency quoted Maqsoud Asadi Samani, the secretary of the Society of Iranian Airlines, as saying Boeing officials offered 737, 777 and 787 model aircraft on a trip to Tehran.
In his published remarks Sunday, Abedzadeh said that "Iran will not be in a hurry about the agreement since the U.S. has always used Iran's old fleet as leverage."
"Iran will apply caution in the talks," he said.