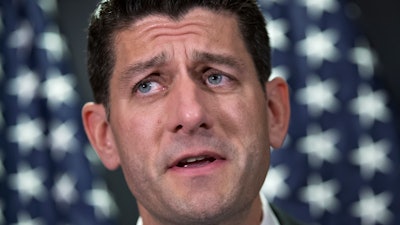 AP Photo/J. Scott Applewhite
WASHINGTON (AP) — House Speaker Paul Ryan unveiled the third installment of his "agenda project" with a sweeping 57-page plan to roll back regulations on energy and the environment, labor issues and the financial services industry.
"The bureaucracy is not listening to the American people, and as a result less jobs, less businesses, less prosperity, lower wages," Ryan said at an event in front of Labor Department headquarters. "We can improve the economy by making sure the regulators respect the people they're supposed to regulate. That is not what's happening."
The plan commissioned by a task force named by Ryan, R-Wis., is largely a repackaging of GOP agenda items that have failed to advance through the Senate and have often been met with veto threats by President Barack Obama.
"Bad or unnecessary regulations can slow the economy down significantly, and the evidence suggests red tape is holding back the recovery," said the report. "The federal government has taken very few outdated regulations off the books, while constantly adding new ones: 3,408 in 2015 alone."
Tuesday's report is the third of a half-dozen reports that are designed to form a positive GOP agenda for the fall campaign. But House Republicans are struggling to be heard above the din created by presumptive GOP nominee Donald Trump.
"The latest plank of House Republicans' Wrong Way agenda is nothing more than a wish list for polluters, unscrupulous financial advisers and Wall Street. It will do nothing to create jobs in our country," said House Minority Leader Nancy Pelosi, D-Calif. "This special interest Republican agenda would poison the air we breathe and the water we drink, while rolling back critical protections for American consumers and taking the cops off the Wall Street beat."
The plan takes aim at regulations on global warming and the 2010 overhaul of financial regulation, among others. It seeks to prevent frivolous lawsuits and other elements of the GOP's long-stalled "tort reform" agenda.
It promises to repeal regulations on power plant emissions that discourage the use of coal, roll back a major update of the Clean Water Act, ease approval of liquefied natural gas facilities and nuclear power plants, and open up more federal lands to energy exploration.
"All this red tape especially hurts small businesses, startups and the energy sector — which are the engines of economic growth," the report added. "It also puts American companies at a disadvantage against global competition."
Reports due next week on the trickier topics of tax reform and a longstanding promise to "repeal and replace" the Affordable Care Act are likely to be more closely watched.