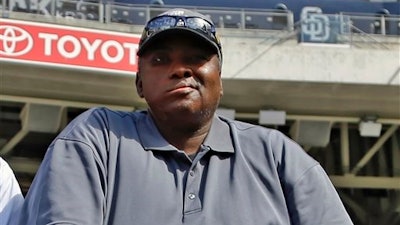 AP Photo/Lenny Ignelzi, File
SAN DIEGO (AP) — Tony Gwynn's widow and two children filed a lawsuit Monday seeking to hold the tobacco industry accountable for the Hall of Famer's death.
The suit was filed in San Diego Superior Court by Alicia Gwynn and her children, Tony Jr. and Anisha Gwynn-Jones.
The suit says Gwynn started dipping as a 17-year-old freshman ballplayer at San Diego State. He died of cancer of the right parotid salivary gland on June 16, 2014, at 54.
The lawsuit said Gwynn dipped in his lower right cheek for more than 30 years.
The court filing lists eight defendants, including Altria Group Corp. and US Smokeless Tobacco Co. LLC., and two people the suit says ran an intramural softball team called "Skoal Brothers" at San Diego State in the late 1970s. The "Skoal Brothers" provided free samples of smokeless tobacco products, the lawsuit said.
Altria spokesman Brian May said in an email that the company had no comment.
Gwynn had said in the years before his death that he believed the cancer was from chewing tobacco. Tony Gwynn Jr., who played for his father at SDSU and later reached the big leagues, and Anisha Gwynn-Jones are scheduled to read statements on Tuesday.
Gwynn was one of San Diego's best-loved athletes. He played for the Padres for 20 seasons. He spent 12 seasons coaching his alma mater.
The sweet-swinging left-hander had 3,141 hits, a career .338 average, won eight NL batting titles, was a 15-time All-Star and led the Padres to their only two World Series appearances.
According to the lawsuit, "Once Defendants got Tony addicted to their products, he became a self-described 'tobacco junkie' who used 1½ to 2 cans or tins of Defendants' Skoal per day. ... Sadly, the nicotine in the tobacco ultimately caused Tony's cancer and killed him."
The suit seeks a jury trial and unspecified damages.
Attorney David S. Casey Jr. of Casey Gerry said Gwynn became addicted to smokeless tobacco at a time when the industry knew the risks, but had no warning labels on its products.
"The tobacco industry had a responsibility to disclose the risk they knew of to him," Casey told The Associated Press. "They did not. At the time he made a choice with them marketing to try tobacco at a time it was not disclosed that it was dangerous."
Casey said the companies' marketing targeted minors, black males, college students and athletes. "Tony Gwynn was caught in the crossfire of all four of those targeting efforts," the attorney said.
According to the lawsuit, "Defendants continued to deluge Tony during his college years with countless free samples of 'dip' tobacco products they purposely adulterated to make more addictive. All the while, they did not mention either the highly addictive nature of their products or their toxicity."
Gwynn had two operations for cancer in his right cheek between August 2010 and February 2012. The second surgery was complicated, with surgeons removing a facial nerve because it was intertwined with a tumor inside his right cheek. They grafted a nerve from Gwynn's neck to help him eventually regain facial movement.