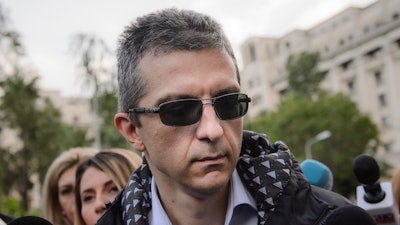 AP Photo/Andreea Alexandru
BUCHAREST, Romania (AP) — Romania's general prosecutor's office on Monday ordered an inquiry into the circumstances of a car crash fatality which has been connected to a high-profile pharmaceutical scam.
The person who was killed as the car slammed into a tree Sunday hasn't been identified but police say they found identity documents in the car belonging to the CEO of the pharmaceutical company Hexi Pharma. The company was indicted this month on charges that disinfectants it provided to hospitals and Romania's troops in Afghanistan were found to be highly diluted and ineffective, causing public outrage.
General Prosecutor Augustin Lazar said Dan Condrea, who heads Hexi Pharma, was due to be questioned Monday and would have been charged with aggravated fraud. He said there were "very strong indications" that the dead man was Condrea, adding that an autopsy was being conducted.
The general prosecutor's office said Monday it was coordinating an autopsy and a technical test on the car.