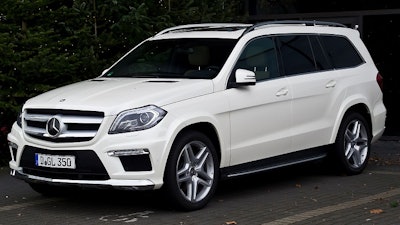 Wikipedia/M 93
DETROIT (AP) — German automaker Daimler AG is investigating at the request of the U.S. government what it says are "possible indications of irregularities" in its emissions certification process.
Daimler spokesman Han Tjan said Thursday that the Department of Justice contacted Daimler last week. The company is conducting an internal investigation of its exhaust emissions certification process.
A message seeking comment was left with the Justice Department.
U.S. owners of Daimler's Mercedes-Benz BlueTEC diesels recently filed a class-action lawsuit claiming the cars are programmed in a way that lets them emit illegal levels of emissions, similar to diesels made by fellow German automaker Volkswagen.
Volkwagen has admitted that its diesels were designed to defeat U.S. emissions tests.
Daimler says the lawsuit's claims are without merit and that the Justice Department investigation is unrelated.