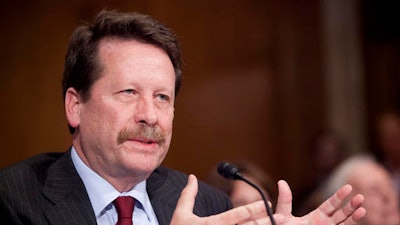 AP
WASHINGTON (AP) — The Food and Drug Administration's new commissioner is pledging to fully back efforts to develop harder-to-abuse painkillers, part of a sweeping government effort to reduce deadly overdoses tied to prescription pain medications.
Dr. Robert Califf told a panel of FDA advisers on Tuesday that his agency alone cannot solve the crisis of prescription drug abuse. But he pledged to do "everything possible under our authority to prevent abuse, save lives and treat dependence."
Last week, the Senate confirmed Califf to head the FDA, overcoming objections from some senators that his agency has not done enough to combat painkiller abuse.
In remarks at FDA's headquarters, Califf laid out his strategy for addressing the epidemic of abuse tied to opioids, which include both legal pain drugs and illegal narcotics like heroin. In 2014, fatal overdoses tied to those drugs climbed to about 28,000, the highest number on record, according to public health officials.
"What we can do is work with prescribers, professional associations, patient advocates and state and local partners — essentially the entire country — to encourage safe use and disposal of opioid medications," Califf said.
Califf has already pledged to add stronger warning labels to the most-commonly prescribed opioids, and to consult more with outside advisers. On Tuesday he highlighted the potential of new painkillers designed to discourage abuse. For instance, the latest version of OxyContin is harder to crush for snorting. When dissolved it turns into a thick jelly that is difficult to inject.
Califf acknowledged that such drugs are not full-proof solutions.
"But the promise that we are on a path toward products that are effective in preventing abuse both by patients and non-patients is real. And the agency intends to fully support efforts to advance this technology," he said.
The FDA has approved five abuse-deterrent drugs since 2010. FDA officials say at least 30 similar drugs are in development.
But public speakers warned that overstating the benefits of abuse-resistant opioids could create false assurances in doctors. To date, it's not clear the new formulations actually translate into fewer overdoses or deaths. And most can still be abused when simply swallowed.
"I am not convinced that we can engineer our way out of this epidemic, and I would caution against over-relying on abuse deterrent formulations to do so," said Dr. Caleb Alexander of Johns Hopkins University.
Today, reformulated painkillers make up just a small fraction of the 200 million opioid prescriptions written each year in the U.S., according to figures from IMS Health.
Doctors prescribe opioids for a wide range of ailments, from post-surgical pain to arthritis and migraines. Medical experts continue to disagree over the appropriate role of the drugs, with some arguing that they should only be used for the most severe cases, such as cancer pain or end-of-life care.
Among other steps, the FDA is requiring additional studies from painkiller manufacturers to assess the long-term safety and effectiveness of long-acting opioids for chronic pain. Most were approved based on studies lasting three months or less.
But Califf noted it would be challenging for the agency to withdraw older opioids from the market, including numerous generic versions of oxycodone, codeine and morphine.
"The FDA cannot withdraw a drug from the market without new evidence that the drug is no longer shown to be safe," he said. "The process can be time-consuming and very resource-intensive."