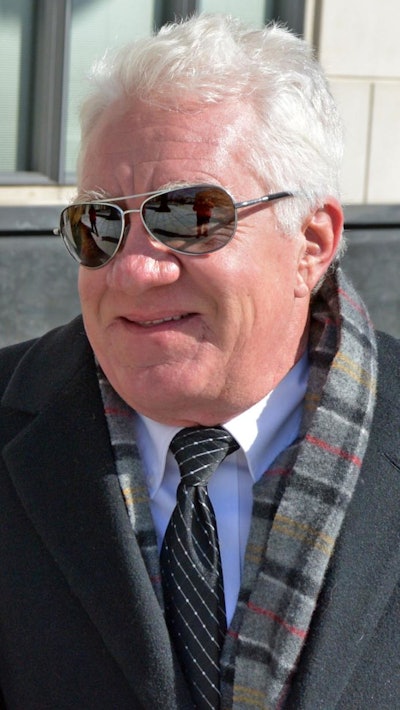 (AP) — A former Freedom Industries executive was sentenced Thursday to one month in federal prison for a chemical spill that fouled the drinking water supply of 300,000 West Virginians. Dennis Farrell also was fined $20,000 in U.S. District Court.
"I'm truly sorry for what happened," Farrell said prior to sentencing on pollution violations. "My hope was, I wish I could go back with the knowledge I now have. I will never forget the lessons I have learned."
The January 2014 spill of a coal-cleaning agent into the Elk River in Charleston got into a water company's intake and prompted a tap-water ban in nine counties for up to 10 days. Residents immediately cleared store shelves of bottled water, and many restaurants were forced to close or cut back services temporarily.
Judge Thomas Johnston noted after environmental regulators intervened and plans were put in place for spill-prevention controls at a facility owned by Freedom in Nitro, about 14 miles west of Charleston, Farrell could have acted to ensure that similar precautions were taken at the Charleston facility.
But Johnston also noted that the misdemeanors Farrell admitted to were "those of careless omission." Before imposing the sentence, the judge heard a lengthy statement read by a former resident, Maya Nye, who said the spill was "not a victimless crime."
Farrell was a former owner of Freedom and served as its president from October 2001 through December 2013, after which it was sold and he continued to work for the company in a management role. Assistant U.S. Attorney Philip Wright said there was a "cultural failure" at Freedom, and Farrell "was the one who set that culture."
"His focus was to make money," Wright said. "But you have to do it responsibly." Four other ex-Freedom officials have been sentenced to probation and ordered to pay fines. Ex-company President Gary Southern is scheduled to be sentenced next week.
The company, which filed bankruptcy eight days after the spill, was fined $900,000, although a federal judge said the fine was more symbolic than anything.