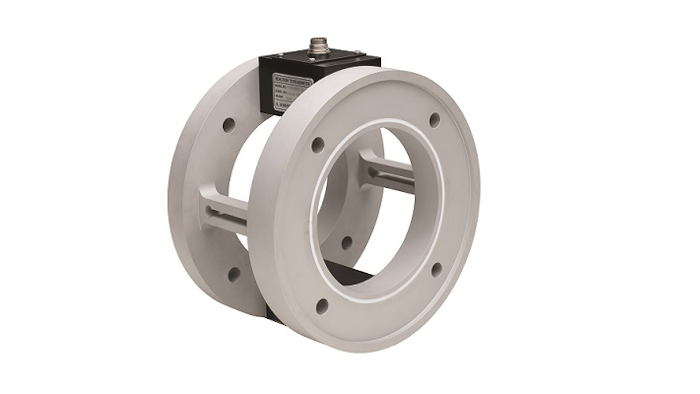 The New Series RTM 2800V C-Face Hollow-Flanged Reaction Torque Transducers from S. Himmelstein (Chicago, IL) are designed to deliver high performance in real world applications, including performance testing of pumps, motors, valve actuators, gearboxes, plus feedback control of mixers, clarifier drives, reactors, extruders, conveyors and more. Features include:
The latest generation of integrated signal conditioning electronics, outputs at ±10 Vdc analog and RS232 digital, available simultaneously.

The ability to connect directly to the users' control systems or computers with included software.

A sensing element design characterized by high accuracy, high torsional stiffness with low torsional deflection and ability to handle large extraneous loads with low crosstalk.
A mounting flange that mates directly with NEMA C-Face motors and generators.

High mechanical overloads eliminate the need to compromise accuracy for safety of the sensor; high electrical overrange avoids measurement errors which occur when signals are clipped.
S. Himmelstein's laboratory offers ISO 17025 accredited torque calibration services for transducers from virtually any manufacturer. The scope of accreditation covers ranges from 0.07 Nm to 450,000 Nm.
www.himmelstein.com; 800-632-7873