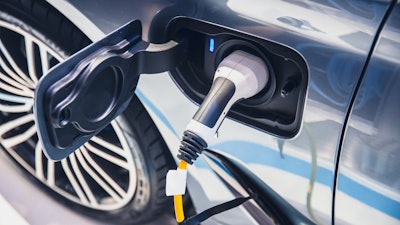 iStock
The Charging Interface Initiative (CharIN), which is the industry association driving adoption of the Combined Charging System (CCS) and the Megawatt Charging System (MCS) platforms, has come out in opposition to Ford and Tesla's recently announced agreement that will open Tesla's EV charging station network up to Ford's lineup of EVs.
The deal will allow Ford's electric vehicles to use Tesla's North American Charging Standard (NACS) Proprietary Network, which CharIN believes could result in market fragmentation.
"CharIN supports global standards and defines the requirements based on the input of its international members. CCS is the global standard and therefore focuses on international interoperability and, unlike NACS, is future-proofed to support many other use cases beyond public DC fast charging," the association said in a statement. "Early, unconsolidated announcements of changes create uncertainty in the industry and lead to investment obstacles."
CharIN also lamented the agreement's need for adaptors, at least early on, which it said could result in a negative impact on the handling of charging equipment and, therefore the user experience, coupled with an increased probability of faults, and effects on the functional safety.
For the time being, Ford EVs will need an adaptor to use Tesla's chargers. But Ford CEO Jim Farley said his company will switch over to Tesla's NACS connectors for its second-generation of EVs beginning in 2025.
Ford and Tesla praised their charging pact as a "huge move for our industry and for all electric customers." Tesla has also been working on opening its charging network to automakers other than Ford.
But CharIN said the industry's focus should be on CCS.
"Abandoning open standards for proprietary standards will inevitably lead to further consumer confusion and delay EV adoption. CCS has gone through many years of rigorous standardization processes, which is a required activity for any new standard proposal. After a decade of collaborative work, the domestic and international EV industry has aligned around CCS," the association said.