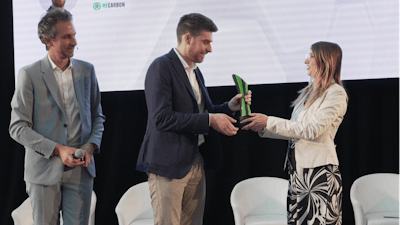 JEC Group
The JEC Composites Startup Booster announced Recarbon as the winner of its startup competition. Recarbon will join the 20 finalists of Startup Booster that will pitch at JEC World 2024.
Recarbon gives new value to carbon fiber wastes, creating, producing and offering innovative ready-to-use intermediate products based on recycled carbon fiber. Recarbon has developed a functional approach for manufacturing products in the form of both thermoplastic Organosheets, thermoset Prepregs and sandwich panels, with different combination of skins and cores.
In the world of composites and advanced materials, the JEC Composites Startup Booster enables companies to find and assess innovations with a potential impact on their industry. Launched in 2017, JEC Composites Startup Booster has already fostered the emergence of 900+ innovative projects from 60+ countries, 80 finalists and 25 winners.
The five finalists who were on stage to pitch in front of the jury were:
Graphene-XT
Hikari
MAch3D
Recarbon
SphereCube