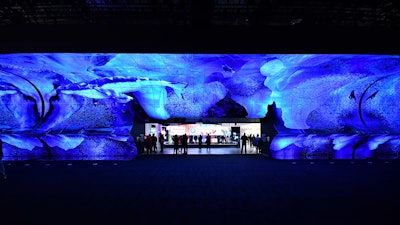 LG
A celebrated CES tradition was back this year, a massive OLED display from LG Electronics.
Constructed with 260 flexible and open-frame 55-inch displays, the installation demonstrated LG OLED's picture quality and ability to assume unique form factors. Measuring 20 feet high and 82 feet wide, the exhibit captivated tens of thousands of CES 2023 attendees.
The Horizon installation created an immersive viewing experience with vibrant images of flora and fauna on a virtually seamless, panoramic screen.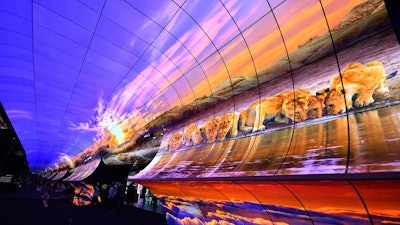 LG OLED's feature self-lighting pixels that can be turned on and off individually to make images lifelike. Without the need for a backlight, LG OLED displays are thin, lightweight and bendable.
The unique installation at the main entrance to Central Hall of the Las Vegas Convention Center enticed visitors to experience 2023 LG OLED TVs, led by unique wireless and transparent models.
The 97-inch LG SIGNATURE OLED M (model M3) is the world's first consumer TV with "Zero Connect technology," a wireless solution capable of real-time video and audio transmission at up to 4K 120Hz. The new M3 OLED TV won a CES 2023 Innovation Award in two categories.