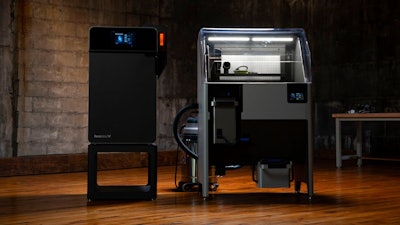 Formlabs
Formlabs is launching the Fuse 1+ 30W, its latest industrial selective laser sintering (SLS) 3D printer.
The device integrates upgraded components — including a more powerful laser — to enable new high-performance materials and improved throughput so customers can produce parts in hands up to 2x faster. With an upgraded galvanometer system, the Fuse 1+ 30W provides faster print speeds enabled by a powerful laser and rapid scanning speed of up to 12.5 meters per second. 
In addition to the Fuse 1+ 30W, the company released Nylon 11 CF Powder, the latest addition to the Formlabs SLS materials library designed for the Fuse 1+ 30W for end-use applications. This nylon-based, carbon fiber reinforced powder will enable users to produce strong, yet lightweight parts in-house.
"Since launching the Fuse 1 in January 2021, Formlabs has single handedly expanded the SLS market, accounting for more than 50 percent of SLS printer sales in that time," said Max Lobovsky, CEO and co-founder of Formlabs. "With the Fuse 1+ 30W, we're pushing SLS 3D printing to new heights — delivering truly rapid, high-throughput SLS printing at a price point that companies can afford. In total, Formlabs has sold over 100,000 professional SLA printers — more than any other 3D printer manufacturer — and the Fuse 1+ 30W sets us up to similarly dominate the SLS market."
To support the Fuse 1+ 30W print capabilities, Formlabs' newest material, Nylon 11 CF Powder, can produce lightweight rigid parts that can withstand repeated impact, making it ideal for replacement and spare alternatives to metal parts, high-impact equipment and functional composite prototypes. With Nylon 11 CF Powder, Formlabs customers will get the best of nylon and carbon fiber with a stable material for end-use applications that require both high stiffness and strength.
Fuse 1+ 30W are available to order now starting at $27,499, and will begin shipping in late August.
Formlabs is simultaneously announcing a new partnership with Hasbro to bring the company's Hasbro Selfie Series personalized action figures to market this fall. Customers will be able to download the Hasbro Pulse mobile app for Android and iOS, log into their Hasbro Selfie Series account, scan their face, customize their character and hairstyle, and then wait for their action figure to be delivered. The Hasbro Selfie Series line will debut with characters from G.I. JOE, Ghostbusters, Power Rangers, and more. It's only available to customers in the U.S.