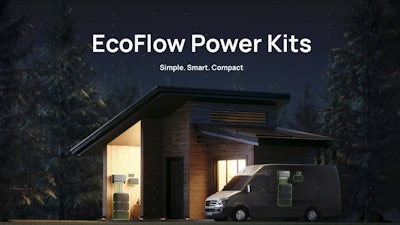 EcoFlow
EcoFlow, a portable power and renewable energy solutions company, today launched EcoFlow Power Kits for RVs and off-grid living. The EcoFlow Power Kits the installation process and allow users to tailor their own settings that best fit their power needs with compact and smart modules.
"The EcoFlow Power Kits are designed to make creating custom power solutions easier than ever," said Thomas Chan, R&D Director at EcoFlow. "EcoFlow wants to offer energy solutions that can be personalized to users' exact needs, whether they are in an RV, off-grid or retrofitting their workshops."
The EcoFlow Power Kits come with two basic modules – the EcoFlow Power Hub, which acts as the central node for all inputs and outputs, and EcoFlow's 2K/5KWh LFP Batteries. Based on actual power needs, the EcoFlow Power Hub can connect to up to three LFP Batteries, which together offer a base capacity of 2KWh and are expandable to 15KWh, allowing users to power an RV for 18 hours and an off-grid house for 11 to 14 hours[i].
In addition, the EcoFlow Power Kits can be bundled with three types of solar panels, including the 100W Rigid/Flexible Solar Panel and the 400W Rigid Solar Panel. By pairing the EcoFlow Power Kits with the solar panels, customers can achieve a maximum 4800W solar input which can fully charge a 15KWh capacity in about 3 hours, and enjoy a sustainable lifestyle off-grid.
For more control, the EcoFlow Power Kits can be enhanced with the AC/DC Smart Distribution Panel which connects to up to six home/RV AC circuits and 12 DC circuits. Once connected, users can monitor the power consumption of all 18 circuits and control six of the DC circuits, all via the optional Power Kit Console or EcoFlow app.
EcoFlow Power Kits can be charged via six different power sources including solar panels, the EcoFlow Smart Generator, alternators, shore power, the grid, and traditional generators. With various charging methods and the ability to fully recharge a 15KWh capacity with a 6000W input in 2.5 hours, the EcoFlow Power Kits free users from low-battery anxiety during their RV road trips or when living off-grid.