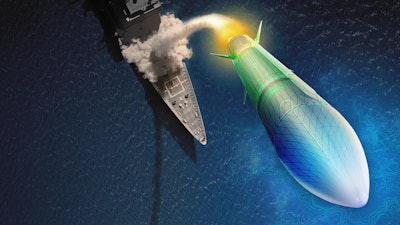 Raytheon
The Missile Defense Agency has selected Raytheon Missiles & Defense, a Raytheon Technologies business, to continue to develop a counter-hypersonic missile, the Glide Phase Interceptor. GPI is designed to intercept hypersonic weapons in the glide phase of flight, providing the U.S. and allies with an additional layer of defense against regional hypersonic missile threats. 
This modification to the agreement, valued at $41 million, increases the total value to $62 million and allows Raytheon Missiles & Defense to continue maturing its GPI design using advanced materials and technology required to intercept a hypersonic threat. This phase will also finalize systems requirements and support accelerated development timelines.
"Our GPI is built on proven missile defense technology as its foundation," said Tay Fitzgerald, president of Strategic Missile Defense at Raytheon Missiles & Defense. "By using digital engineering and leveraging high technology readiness level components and subsystems already in use across Standard Missile and hypersonic programs, we can quickly advance the creation of this new interceptor."
Raytheon Missiles & Defense is using technologies from across the current portfolio to create efficiencies, reduce qualification time and demonstrate the GPI capability as quickly as possible.