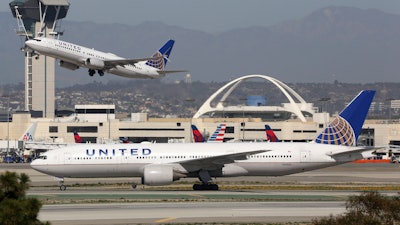 iStock
United Airlines on Tuesday announced its intentions to invest in Heart Aerospace and purchase 100 19-seat ES-19 electric planes from the Swedish startup.
Breakthrough Energy Ventures and Mesa Airlines joined the investment. Mesa Airlines, which partners with United on its efforts to introduce electric aircraft to commercial services, will also add 100 ES-19 aircraft to its fleet.
The purchase will take place once the aircraft meets safety, business and operating requirements, United said in a press release.
The deal aligns with United's aspirations for battery-powered planes for regional routes. The airline wants to eliminate its greenhouse gas emissions by 2050 without relying on traditional carbon offsets.
"Breakthrough Energy Ventures is the leading voice of investors who are supporting clean-energy technology creation," United vice president Michael Leskinen said in the announcement. "We share their view that we have to build companies who have real potential to change how industries operate and, in our case, that means investing in companies like Heart Aerospace who are developing a viable electric airliner."
Heart could introduce its ES-19, which would fly customers up to 250 miles, as early as 2026.
United said that once operational, the ES-19 could travel routes such as Chicago O'Hare International Airport to Purdue University Airport, and San Francisco International Airport to Modesto City-County Airport.
"Aviation is such a critical piece of our global economy. At the same time, it's a major source of carbon emissions and one of the most difficult sectors to decarbonize," Breakthrough's Carmichael Roberts said. "We believe electric aircraft can be transformational in reducing the emissions of the industry, and enable low-cost, quiet and clean regional travel on a broad scale."
According to Reuters, United invested in and announced an order with Archer, another electric aircraft company, earlier this year.